Faux or fake lighthouses have never been working United States lighthouses. Many, however, are so realistic they fool visitors and have even become popular nautical markers for experienced sailors despite being mainly restaurants or bed and breakfasts.
Boca Chita Lighthouse
Accessible only by boat, the once privately owned 32 acre island of Boca Chita Key, Florida is now part of the Biscayne National Park.
The lighthouse here is a tapered 65 foot beacon built from native coral rock and boasts interior stairs designed to imitate medieval stone masonry.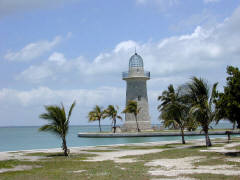 The lighthouse was built by Mark C. Honeywell who owned the island from 1937 to 1945. The Honeywell Corporation tycoon thought the lighthouse would help his boat captain to have a landmark for use as a navigational bearing.

When the tower was finished, with the pomp Honeywell was accustomed to, the lighthouse was lit. But not for long. Honeywell, it seemed had never thought to tell the Lighthouse Service about his little project. They soon informed him that the lighthouse was not charted and hence constituted a hazard to navigation. Within hours after it was first lit it was extinguished.

The lighthouse still stands today along with some other coral rock buildings and a couple of cisterns. The wooden main house was destroyed by fire in the 1960's.

The windows in the dome were blown out by Hurricane Andrew in 1992. They are finally scheduled to be replaced with a donation from a friend of Mr. Honeywell's later this year.

Boca Chita Island is open to campers, however amenities are few. Only picnic tables, rest-rooms and grills are provided. All other supplies must be brought in, including food, fuel, fresh water, camping equipment and plastic bags to remove your own trash. Camping space is free and is provided on a first come, first served basis.

Any weekend from September to May and occasionally during the summer months when volunteers are available, visitors can tour the picturesque little lighthouse that isn't.