Audiences can rock, sway and sing along to some of America's hottest contemporary hits and classics Wednesday through Sunday, May 4-8, during the 2022 Key West Songwriters Festival.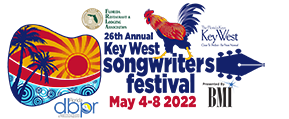 More than 175 performing songwriters — including multiplatinum entertainer Chris Young, whose career includes eight studio albums and 10 number-one singles — are to showcase their chart-topping offerings in well over 50 shows, providing an unparalleled five-day medley for music fans.
Now in its 26th year, the festival has become an annual tradition for some of America's most popular country and pop music hitmakers.
The 2022 roster includes Riley Green, renowned for his musical storytelling and offerings such as "I Wish Grandpas Never Died"; Ernest, whose notable releases include "Cheers" and "American Rust"; and songwriting superstars Dean Dillon, Chuck Cannon, Liz Rose, Jeffrey Steele, Scotty Emerick and Al Anderson among many others.
Most shows feature a rotating group of writer/performers, and many have no admission charge. Among them are offerings staged at island city bars and hotspots, waterfront resorts, historic inns, and the festival headquarters at Rams Head Southernmost Bar & Restaurant, 804 Whitehead St.
The five-day event's anticipated highlight is Young's concert, set for 7 p.m. Friday, May 6, at the Coffee Butler Amphitheater in Key West's Truman Waterfront Park. Hosted by broadcaster Storme Warren and featuring Kameron Marlowe, the performance is to showcase the distinctive style of the country star whose recent hits include "Famous Friends." Doors open at 6 p.m.
Other ticketed group shows are scheduled daily at the Key West Theater at 512 Eaton St.; Thursday and Friday nights at the San Carlos Institute, a Cuban cultural center at 516 Duval St.; Thursday and Saturday evenings during sunset sails aboard the Fury Catamaran; Saturday at the Southernmost Beach Sand Bar at 508 South St.; and Sunday at Opal Key Resort & Marina, 245 Front St., for a waterfront sunset dinner performance.
At 7 p.m. Saturday, a free "main stage" concert headlined by Green is to take place in the 200 block of Key West's Duval Street. Hosted by Warren, the high-energy show also features Shelby Darrall and Payton Smith.
Presented by international performing rights organization BMI and the Florida Restaurant & Lodging Association, the Key West Songwriters Festival concludes Sunday night, May 8, after a full day and evening of music.
Tickets to individual shows and VIP multishow passes can be purchased at keywestsongwritersfestival.com/ticketedshows.html.
Festival information and complete schedule: keywestsongwritersfestival.com
Source: Key West Songwriters Festival to Star More Than 175 Hitmakers May 4-8 | Florida Keys Newsroom
These Keys Treasures Designs and many more are available on products such as T-Shirts, Stickers, Magnets, Mugs, Phone Cases, and much more at KeysTreasures.ReBubble.com