The Key West Greyhound Track was once billed as the Tiniest Track in America, this oval was located amid auto graveyards and cheap trailer parks in the poorest section of America's most southeastern town. [this was actually on Stock Island] It was the literally the last stop on the road for young pups or aging greyhounds and the gullible tourists who bet them. About 100 people showed up to wager each night, maybe 200 on dime-a-beer Fridays.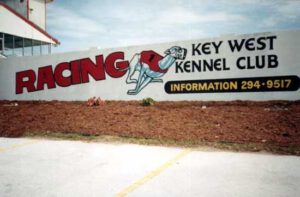 There were ample opportunities to cheat, and stories abound of switching the numbers on the dogs or sandpapering their paws.
My friend Tony, who worked at a kennel there, remembered it as "wide open, with excessive drinking, drugs and loose women, all with no police presence whatsoever." So it came as no surprise who I ran into there: Hunter Thompson.
Yes, America's original gonzo-journalist bet on the puppies — just like me! For me, the encounter added an air of intrigue and romance to what was, in reality, nothing but a bad habit. So I joined Hunter's entourage for the evening to tear up losing tickets and enjoy other activities.
In 1992, the health department shut the track down due to a mysterious creek that had sprung up in the parking lot. It smelled suspiciously like dog pee. All vestiges of the place have since vanished, buried under the gentrification of the Conch Republic.
Source: Syverud: There's more than one way to beat the odds
Key West Greyhound Track History
Florida's Key West Kennel Club and Seminole Greyhound Park Demolished
Stock Island: The long-closed Key West racetrack was demolished to make way for Meridian West Apartments, a nine-building, 102-unit gated community for low-income residents. Meridian West is scheduled for completion by December 2004.
Racetrack History
The Key West Kennel Club operated from 1963 to Feb. 26, 1991 when a threat to public health caused by liquefied animal waste flowing through the parking lot forced the state Division of Pari-Mutuel Wagering to issue an Emergency Order of Suspension. It was the first time in 66 years of greyhound racing in Florida that the state shut down a racetrack in mid-season. The Key West Track never reopened.
The 16-page suspension order cited numerous violations of health, safety, and fire codes, which posed a danger to greyhounds and track personnel, and multiple violations of the state's pari-mutuel statutes, which misled the wagering public.
Between Oct. 31, 1990 and Feb. 21, 1991, four trainers abandoned their kennels; many of the 171 abandoned dogs were grossly underweight at the time of discovery. In mid-February, a state inspector discovered that 51 greyhounds had been removed from the premises in violation of a racing judge's order. The bodies of 15 of those dogs were dumped in the Cudjoe Key landfill before the state could determine how they were killed.
Sources: Keys News: Mandy Bolen; Miami Herald: Dan Keating (1991)