"Easy as pie" or is this just a myth? Although variations of the sweet treat Key Lime Pie prove to be somewhat complex, fundamentals dispel fear and certainty comes to the forefront.
Education equates confidence which ultimately inspires home cooks to meet the daily challenges of the kitchen. The following analysis will deconstruct a key lime pie to prove easiness prevails. It is understood that the topping, filling and crust will be reviewed. In addition, the type of pan that is used is critical and will also be addressed. Before we start, a brief summary of the history of key lime pie sweetens the taste buds of anticipation.
According to "The Curious Case of Key Lime Pie," written by Molly O' Neill, one should be warned about the dangers of 'present-ism,' the tendency to interpret the past through the filters of present-day values and knowledge.
For example, purist pie enthusiasts insist that an authentic key lime pie must incorporate real key limes. However, these trees were wiped out by a hurricane in 1926 and Persian limes were planted instead.
Also, should a key lime's filling incorporate cream or condensed milk? O'Neill states that this particular pie was invented to use condensed milk. William Curry brought the first condensed milk to the Keys not long after Gail Borden invented it in 1856. The canned milk was an instant success since there was no ice or refrigeration until 1930. Canned milk was the precursor to fresh dairy and therefore an original component of a true key lime pie.
Battle lines in the crust camp seem doomed as supporters for traditional pastry crust and graham cracker crust prepare for a never-ending warfare. The topping dissension proves to be just as explosive; controversy surrounds whether meringue or whipped cream should embellish the famous pie. Believe it or not, but culinary historians think the original key lime pie did not even have a crust.
Time and space are limited so let's get started on the basics. Whipped cream is simply a matter of incorporating tiny air bubbles into a fatty liquid. If one prefers a scientific explanation, the fat molecules surround the air bubbles making them more stable. The bubbles then cling to each other forming a thick foam.
For best results when preparing whipped cream, chill everything that comes in contact with the cream. This includes the bowl, beaters and even the measuring cups. Warm utensils hinder the whipping process. You have many choices when it comes to cream, but heavy whipping cream produces the best results.
A discussion of key lime pie cannot be complete without noting the distinction between key lime juice and regular lime juice. The key lime is an Asian species that was brought to the Florida Keys by the Spanish in the 1500s as stated by "What's Cooking America." Key limes are smaller in appearance and contain more seeds than regular limes but on the other hand, key lime juice is more aromatic and intense.
Persian limes are the most commonly found in markets. Although they become yellow when they are ripe, they are sold only when they are still bright green. If limes were shipped to the supermarket when they were ripe, they might be overripe by the time they get there and well on their way to spoiling. As a result, most limes are picked when green and immature.
When making the filling, fresh limes do not yield much juice. I always purchase more limes than I think I will need to be on the safe side. When juicing limes, your hands are no competition for a juicer. One does not need to buy an expensive one; small plastic juicers under $10 are available at local stores that sell kitchen products. In addition, lime zest is suggested in the recipe; this intensifies the lime flavor.
The type of crust depends on personal preference. I am partial to a graham cracker crust because the sweetness and texture highlight the lime flavor more than a traditional dough crust. If one agrees with this line of thinking, following are a few tips to ensure graham cracker precision.
Typically, cooks use their fingers to form a graham cracker crust. There is nothing wrong with this particular method but unevenness is sure to prevail. Instead, if you gently press the graham cracker crust with a flat, level surface such as a measuring cup, the result is a gorgeous perfectly smooth bottom crust.
Sometimes finished pies stick to the pan when you are ready to cut into it – this literally can be a sticky situation. The solution is very simple; carefully dip the pan into a large bowl of hot water to loosen the pie.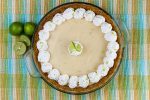 While we are on the subject of pans, the type of pan used in baking pies plays a significant role in the cooking process. "Cook's Illustrated" tested several new models and the basic all-glass pie pan took top honors. The slow, steady, insulating heat for even baking was a definite factor.
In addition, the shallow angled sides prevent crusts from slumping, and its 1 1/8-inches deep height fits most store-bought crusts. The basic glass design and low price made it a clear winner.
The following key lime recipe is easy to follow and perfect for those who are a little apprehensive about making pies. It is also cost effective and does not take much time. What else can a cook ask for? Enjoy!
Key Lime Pie
Graham Cracker Crust
1 ¼ cups graham cracker crumbs
3 ½ tablespoons sugar
5 tablespoons unsalted butter, melted
Lime Filling
½ cup key lime juice (4 to 5 limes)
4 teaspoons grated lime zest
4 egg yolks
1 (14-ounce) can sweetened condensed milk
Whipped Cream Topping
¾ heavy whipping cream
¼ cup confectioners' sugar
For the Crust: Preheat oven to 325 degrees. Mix crumbs and sugar in a medium bowl. Add butter and mix well until blended. Spray pan lightly with unflavored cooking spray. Press crumbs into a 9-inch pie pan and up the sides. The crust will be visible so think in terms of presentation. Bake until lightly browned, about 12 minutes. Transfer to a wire rack to cool to room temperature.
For the Filling: Whisk lime zest and egg yolks in a medium bowl for 2 to 3 minutes. Beat in condensed milk and allow to rest for 5 minutes. Pour filling in cooled pie crust and bake for 16 minutes. Return pie to wire rack and allow to cool to room temperature. Do not touch the filling, you will not be able to smooth it out.
For the Whipped Cream: Whip cream in a medium bowl until soft peaks form. Gradually add sugar and continue beating the cream mixture. Pipe small decorative dollops of whipped cream around the entire edge of the pie. Place 3 thin slices of sugar coated limes in the center, overlapping and forming a pinwheel. Top with one more dollop of cream in the center. Refrigerate until ready to serve.