Teatable Key is an island in the upper Florida Keys. It is located on U.S. 1 at mile marker 75.
A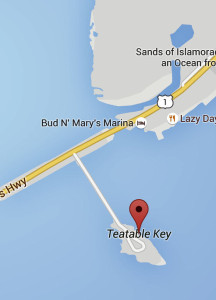 ll of the key is within the Village of Islamorada as of November 4, 1997, when it was incorporated.
The island lies to the southwest of Upper Matecumbe Key, and to the northeast of Lower Matecumbe Key.
Marker ID:
Location:
A small plaque on a rock along the Overseas Highway (US 1)
County:
Monroe
Coordinates:
N 24° 53.578    W 080° 40.148
24.89296666    -80.66913333
Style:
Mounted

**

Waymark:
WM6HJD
Text:
Indians lived on this island over 1000 years ago. In 1722, it was known as Boys Island. In Dec., 1838, Lt. Coste established a Naval base here and named it Ft. Paulding. This was the base for the West Indian Squadron used to blockade the coast to keep the Indians from receiving supplies from the Bahamas or Cuba.
The Navy's first steamship, "The Sea Gull" was based here.
While the Navy was looking for Indians in the Everglades, the Indians attacked nearby Indian Key on Aug. 7, 1840 destroying the village and county seat of Dade County.