Requests for redevelopment and expansion of a longstanding resort are set to go before the Village Council on Thursday, Feb. 16. La Jolla Resort, represented by Island Construction Management owner Don Horton, will go before the governing board a second time with requests to redevelop and possibly expand on its Upper Matecumbe Key property through future land use map and zoning amendments.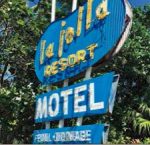 The council previously approved map and zoning changes with the stipulation that no transfer of development rights would be allowed to be moved to the [ La Jolla Resort ] property. Therefore, if approved a second time without changes by the council, no expansion or increase in intensity or density would be allowed. As the request reads in regard to the expansion, it could push the 20-room resort to 27 units, which was what was approved by the village's Local Planning Agency, or to a maximum of 34 units.
Some neighboring residents spoke at the initial meeting for these requests in October. While most were fine with the redevelopment of the property, they opposed the expansion. The resort, at 82216 Overseas Highway, dates back to the 1950s. It has been on the market for quite some time and is currently listed at $10.9 million by Ocean Sotheby's International Realty.
Other agenda items at the Feb. 16 meeting include:
Action on a resolution regarding the approval of an agreement with Fort Lauderdale-based Kittelson & Associates Inc. to conduct two village traffic studies and provide recommendations to improve vehicle mobility along U.S. 1 and the Old Highway. A related discussion on stop signs on the Old Highway is also set to be headed by Councilman Mike Forster.
A discussion on a renaming of the Florida Department of Transportation-owned Tavernier Creek Bridge headed by Councilwoman Deb Gillis.
Action on a resolution regarding the approval of a $300,000 Monroe County Tourist Development Council grant to be used as part of the funding for the Anne's Beach boardwalk replacement project. The village set aside $1.2 million in its current budget for the entirety of the work, which includes 600 feet of a new pathed walkway.A complete council agenda can be viewed at islamorada.fl.us. A live, and then archived, stream of the meeting will also be available there.

Read more here: http://pdf.keysnews.com/weeklys/freepress.pdf