Hurricane Irma, pushing a dangerous flood of ocean water, made landfall early Sunday morning, 9:10am,  on Cudjoe Key, just a short drive up the Overseas Highway from Key West.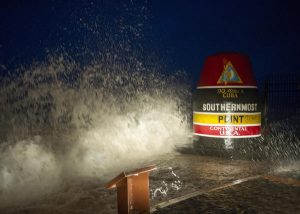 The storm arrived in the Lower Keys as a Category 4 with howling winds and the National Weather Service Key West office warned early Sunday that sustained winds of up to 120 mph would continue for hours from Big Pine Key to Key West. A bigger concern was storm surge, which was still rising in the morning. Some social media posts already showed knee-deep water in portions of Old Town and forecasters said seven to 10 feet above ground level was a possibility in some areas.
You can find more information on these Facebook pages.
"There is a lot of misinformation circulating online," explained FEMA on its site. "Because rumors spread fast, please share this page and help us provide accurate information."
FEMA says the site will be a growing list and any popular internet rumor is fair game. This includes, for example, a rumor that hurricane flood waters carry the Plague (false) and a belief that undocumented immigrants will be arrested if they go to emergency shelters. (That's also false.)
Is it true that emergency shelters are required to accommodate pets and service animals of evacuees? TRUE.
Is it true property owners forfeit federal disaster assistance if they clean up flood-damaged properties? FALSE.
Is it true that gas stations in Florida are experiencing outages? TRUE.
Scam warnings are also included, as well as advice on what evacuees should do before they try going back home. (Check in with local officials for conditions.) To visit the FEMA page, click here.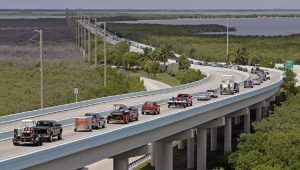 Hurricane Irma Evacuation
Authorities were begging residents of the Florida Keys to evacuate in the few remaining hours before Hurricane Irma's arrival, warning that storm surges and high winds pose a particular risk to the string of low-lying islands.
Leaders turned to Gov. Rick Scott for help in getting the message out to those residents who remain on the islands.
Irma's winds will hit the Keys first on Saturday, and officials worry there won't be enough time for residents to make what can be a three-hour-plus drive from Key West to the mainland. Authorities have opened four storm refuges — they aren't calling them shelters — for people who won't leave the Keys.