Good news last week for mullet, the bigger fish that eat them, and the recreational fishers who catch them both: the Florida Supreme Court upheld netting restrictions adopted by constitutional amendment in 1994.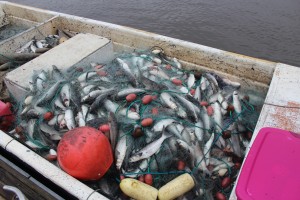 Florida's high court rejected a petition by the Wakulla Fishermen's Association to overturn an appeals court ruling affirming a ban on gill nets in state waters. In 2013, the commercial fishers' group convinced a Leon circuit judge to strike down netting rules on grounds they are unfair. That ruling allowed a brief period of gill netting for mullet until the Florida Fish and Wildlife Conservation Commission won an injunction to keep the ban in place while the issue made its way through the courts.
The recreational fishing group CCA Florida reacted happily to the Supreme Court ruling.
"The constitutional amendment that has protected Florida's marine fisheries for more than 20 years is safe and intact once again," CCA Florida chairman Bill Campsaid in a statement. Florida's bait fish populations and inshore fisheries have shown dramatic improvement since the netting rules took effect in 1995.
Read more here: http://www.miamiherald.com/sports/outdoors/article10910798.html#storylink=cpy