Living in South Florida means never having to experience a full-blown winter. Not with this heat, anyway. Luckily, that's not necessarily a bad thing, as it means that we can hop in the car and be in a tropical destination like the Florida Keys in just a matter of hours, in search of some laid-back fun, colorful sunsets and some pretty amazing fare. When that craving hits, here are 10 hottest Florida Keys Restaurants to try.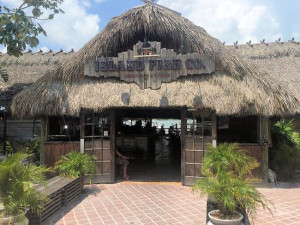 The Island Fish Company Tiki Bar & Restaurant
Sunsets and seafood are the thing at this Marathon tiki bar/dining spot located at mile marker 54. Locals and visitors alike flock to this popular joint in search of some of the area's best catch-of-the-day offerings like Florida Keys stone crabs and Indian River clams, which play nicely with their refreshing selection of frozen drinks and breathtaking views of the Gulf of Mexico.
12648 Overseas Hwy., Marathon; 305-743-4191
Key Largo Conch House 
No need to drive all the way south to the Conch Republic to get your hands on some freshly caught conch — this place serves it in pretty much all imaginable forms, from fritters and ceviche to classic cracked and chowder. It's also known for its homemade coconut-infused Key lime pie, which is one of the best in the area.
100211 Overseas Hwy., Key Largo; 305-453-4844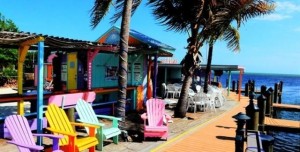 Snapper's
A classic at the Keys scene, this lively seafooder serves ocean views alongside Caribbean fare and rum-soaked tropical cocktails in a laid-back setting. The colorful tiki bar, live music and dockside seating area have made this a Key Largo favorite ever since it opened its doors in 1989.
139 Seaside Ave., Key Largo; 305-852-5956
M.E.A.T.
Even though the Keys are mostly known for their seafood, there's something to be said about this modern American gastro-pub's impressive selection of meat-centric fare like their award-winning Inside-Out Juicy Lucy burger, made with a cheese- and bacon-stuffed Angus beef patty, and their homemade chorizo and chimichurri sandwich. It's all washed down with local craft beer and sommelier-selected vinos.
88005 Overseas Hwy., Tavernier; 305-852-3833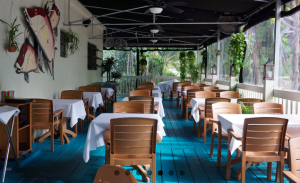 Chef Michael's 
"Peace, love and hogfish" is the motto at this New American bistro (pictured above) serving creative Florida Keys fare in a quaint, French-inspired setting. And though the rotating seafood menu varies according to each day's fresh catch, the signature fish is always on the menu in four different renditions.
81671 Overseas Hwy., Islamorada; 305-664-0640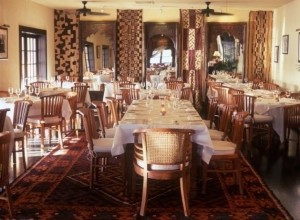 Pierre's
Dining at the Keys doesn't always have to be a casual affair, and this swanky, romantic French spot located on the second floor of a Colonial-style house within the Moorings Village proves it. The fine-dining menu features globally influenced French cuisine like honey-soy-glazed quail and pan-roasted stack of lamb.
81600 Overseas Hwy., Islamorada; 305-664-3225
Roof Top Cafe
Known for its updated island cuisine and airy, upper-level tropical patio, this upscale eatery offers some of the best people-watching spots in Key West, overlooking Mallory Square and Sunset Celebration.
308 Front St., Key West; 305-294-2042
Kermit's Key West Key Lime Shoppe
No food is more representative of Key West than Key lime pie — after all, it's the town's most famous culinary invention! Though there's much debate about who makes the best pie, there's no denying Kermit's is a top contender. Though the traditional pies are popular, it's the famous Belgian chocolate–covered pie on a stick that's a must-try.
200 Elizabeth St., Key West; 305-296-0806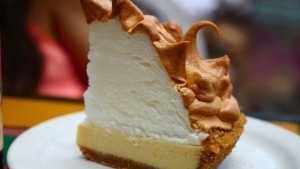 Blue Heaven
This iconic outdoor eatery captures Key West's quirky and free-spirited vibe through funky art, a lush tropical patio, live music and free-roaming cats and chickens. Favorites from their Floridian-Caribbean menu include banana pancakes, lobster eggs Benedict and their famous meteorite-shaped Key lime pie (pictured above).
729 Thomas St., Key West; 305-296-8666
Better Than Sex 
Calories be damned — the decadent creations of this alluring Key West dessert bar are some of the best in the area and totally worth the splurge. Amid this romantic red-hued spot, you'll find provocatively named sweets like The Morning After and the Cookie Nookie Pie, all meant to be paired with the restaurants's famous chocolate-rimmed glass of Cabernet Sauvignon.
926 Simonton St., Key West; 305-296-8102