Dressed-up dogs, costumed cats, bright-plumed birds and other domestic pets and their people can unleash their"animal magnetism" before more than 2,000 spectators at the wacky Pet Masquerade, a highlight of Key West's Oct. 19-28 Fantasy Fest.
Scheduled Wednesday, Oct. 24, the family-friendly costume competition is set to begin at 5:30 p.m. at the Key West Amphitheater at Truman Waterfront Park, 21 E. Quay Road.
Contestants in the madcap masquerade are encouraged to design their costumes around the 2018 Fantasy Fest theme of "Oh … The Games We Play!" — inspired by amusements ranging from traditional board games to furry role-playing adventures.
People and their pets might be costumed as Angry Birds, Donkey Kong and his jungle c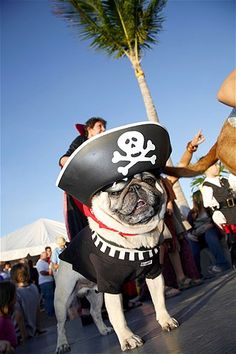 lan, canine and feline Monopoly tokens or even runaways from the Nintendogs universe.
Each year, the furred and feathered frivolity draws several dozen dogs, cats and avian contestants — as well as the occasional rabbit, pot-bellied pig or snake.Entries traditionally range from simple pet-and-person pairings to exuberant ensembles featuring multiple animals and humans performing offbeatskits or musical numbers.
A panel of judges evaluates the entries, awarding prizes for the top junior contestants, most exotic attire, best theme adaptation, best pet-owner look-alikes and overall winner.
Recent years' standouts have included a "disappearing" rat dressed as a magician's hat, a "steam punk" pug and person in psychedelic garb and a Chihuahua body-painted to portray a tiny deer.
Registration for competitors begins at 4 p.m. and the fee is $25 per category.
General admission for spectators is free, with ample seating as well as space for attendees' blankets or lawn chairs. Plans call for food and beverages to be available for purchase on-site, so coolers are not allowed.
Proceeds from the Pet Masquerade benefit the Lower Keys Friends of Animals.