Thinking of visiting the Florida Keys? Contributing writer Margot Black planned a road trip with her family, and discovered some family-friendly activities and hotels along the way. 
I had not traveled to the Florida Keys since I was a little girl and was excited to plan a trip there with my own family in tow. The Florida Keys are a rare part of the United States where its reputation undeniably precedes it. Whether you know it from movies such as Key Largo or Miami Vice or the books of Ernest Hemingway, there's something exhilarating about driving along a single road knowing that magic, history, and nature await.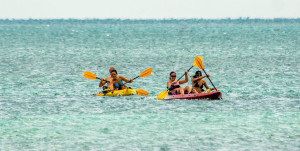 I wanted my son to be able to enjoy its natural beauty, and so my aim was to allow him to meet as many animals as possible, and also enjoy the ocean and coral reef. We ticked all the boxes and had an extraordinary time. There are around 1,700 keys in the Florida Keys and the biggest, Key West, can be found 129 miles south of Miami. At this point, you are nearer to Cuba, which is 94 miles away across the water.
Key West is a balmy, tropical location, and up to now, the only part of the U.S. that has never experienced a frost or a freeze (only the shaved ice you eat to cool down). It has a large port, which hosts many packed cruise ships on a daily basis and an even larger naval base. For a little piece of land that measures just two miles wide and four miles long, it packs a punch.
We also stayed for one night in Islamorada, which is just south of Key Largo and about 80 miles north of Key West. Our pit stop here on our drive back to Miami airport split up our travel time, which we all appreciated.
Islamorada means "purple isles" and is known as the Sport Fishing Capital of the World. As well as all the fishing – and excellent sea food – people come here to enjoy all kinds of watersports, kayaking, jet skis, parasailing, boating and sunset cruises. I loved this little Key and we will definitely return one day.
For more detailed description on Margot's trip, visit the link below.
Source: Family-Friendly Activities in the Florida Keys