We often think we need to escape to the Bahamas or elsewhere in the Caribbean to get to paradise, but the truth is that we have a paradise right at home in the U.S. That's right, we're talking about the Florida Keys. Most of us have heard about how awesome Key West is, but the rest of the islands should not be overlooked: the Florida Keys collectively make up a chain of more than 800 islands, so there are a ton of worthwhile stops to make during a road trip down to Key West. We know the options can be overwhelming, but not to worry — we've broken it down for you: Here's our list of must-stop spots for Key West-bound road trippers.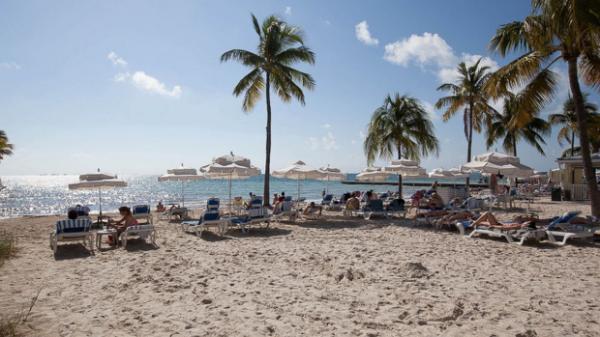 First, Get the Lay of the Land A road trip down the chain of Florida Keys is pretty convenient as there's one road connecting a series of about 800 islands. It takes about three-and-a-half hours from mainland Florida, just south of Miami, to get out to Key West via the Overseas Highway (U.S. Highway 1). The Keys themselves are broken into three categories: the Upper Keys, Middle Keys, and Lower Keys.
The Upper Keys (excluding Biscayne Bay) run from Key Largo to Lower Matecumbe Key at about mile marker 75 (MM75). The Middle Keys start at Craig Key and extend to the city of Marathon — ending at the south end of the Seven Mile Bridge. And, last but not least, the Lower Keys start at MM47 and finish at Key West, which is MM0. Since all of the Keys are accessible by just one road, the mile markers are the most helpful ways to pinpoint locations along the route.
Key Largo
Key Largo is the northernmost of the Florida Keys connected by U.S. Highway 1, and is located just 18 miles south of Miami. Because of its close proximity to the mainland, Key Largo is a popular weekend getaway destination for Floridians and (short) road-trippers alike. The highlight of Key Largo is definitely John Pennekamp Coral Reef State Park, which includes 70 nautical square miles of beautiful Atlantic Ocean waters and the only living reef in the continental United States. The park is famed for its fabulous aquatic life (and its underwater statue of Jesus Christ) and is a popular spot for snorkeling, scuba diving, fishing, hiking, kayaking, and camping. When in town, don't forget to stop by Mrs. Mac's Kitchen for great seafood and, of course, key lime pie.
Our Hotel Pick: Marriott Key Largo Bay Beach Resort
Islamorada
Islamorada, only half an hour south of Key Largo, is a chain of islands measuring only 20 miles long. The small group is known as the "sports fishing capital of the world," so for avid adventurers and sports enthusiasts, this is a must-stop spot. Robbie's of Islamorada is a popular locale, as guests can purchase buckets of bait to feed the famous tarpon from the docks, as well as plan snorkeling trips and excursions to nearby Lignumvitae Key Botanical State Park and Indian Key Historic State Park. If you think you may need a break from the (awesome) seafood on the Keys, you can visit the tasty M.E.A.T Eatery and Taproom on Islamorada; we recommend the truffle fries, a burger, and a craft beer for a nice change of pace.
Our Hotel Pick: Casa Morada (pictured)
Marathon
Marathon is another community in the Keys famous for fishing, snorkeling and boating — but it has a lot of history to offer, too. This former fishing village was founded by New Englanders in the early 1800s, making it one of the most historic stops along U.S. 1, aside from Key West. One of the most popular attractions in Marathon is The Turtle Hospital — a small non-profit dedicated to the care of injured sea turtles; it offers educational tours to guests. Other marine lovers visit the Dolphin Research Center to swim with and learn about dolphins. And, of course, the famous Seven Mile Bridge is not to be missed, as it connects the city of Marathon, which is part of the Middle Keys, to Little Duck Key in the Lower Keys.
Our Hotel Pick: Tranquility Bay Beach House Resort
Bahia Honda Key
Bahia Honda Key is located on the west end of the Seven Mile Bridge in the Middle Keys. In the beginning, the little island was home to a camp for workers assigned to the overseas railway, but today it is best known for the immaculate Bahia Honda State Park. The park has a public beach that has often been called the prettiest beach in the Keys, mostly because it typically isn't crowded and is more of an untouched, off-the-beaten-path spot. The park contains over 500 acres, as well as an offshore island. Of course, there are opportunities for swimming, boating, snorkeling, kayaking, and camping at the Bahia Honda State Park Campgrounds; this spot is definitely recommended for travelers looking to avoid the crowds of more populated locales like Islamorada and Marathon.
Key West
It may be better known, but there's a reason and Key West is one of our favorite destinations in the Keys. With everything from gorgeous historical buildings (like Hemingway's Home) to a bumping nightlife scene and great food, a stop here is a no-brainer. Like all of the other Florida Key locales, Key West offers fantastic boating, snorkeling, fishing and other outdoor opportunities; what sets it apart, though, is all of the history and things to do on land. We recommend checking out Mallory square for a nightly arts festival that start about two hours before sun set, and a trip to the Little White House (President Truman's winter home turned museum) for history buffs. Oh, and while we're all in on the key lime pie craze, don't forget that — with Key West's close proximity to Cuba — you'll be missing out if you don't take advantage of the amazing cafe con leche or Cubano sandwiches on the island; try the Cuban Coffee Queen for these specialties.
Our Hotel Pick: Ocean Key Resort
Source: 5 Must-Stop Island Spots in the Florida Keys – Yahoo