Rows of new pink bougainvillea and other plants now line four miles of the Islamorada U.S. 1 corridor on Upper Matecumbe Key.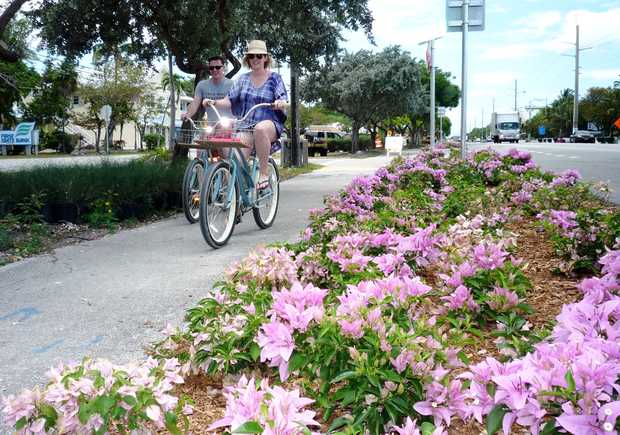 A five-month project to landscape the Islamorada highway shoulders from mile marker 81.5 to marker 85.6 should finish its planting phase in early June, said Paulette Summers, a spokeswoman for the Florida Department of Transportation.
The $2 million landscaping also includes maintenance and replacement of dead plants until March 2018.
Contractors worked to "enhance overall aesthetics, installing native trees and shrubs to buffer the Florida Keys Overseas Heritage Trail and removing invasive exotic vegetation as well as diseased and damaged trees," says a project summary.
Greenery selections were picked to promote native species that withstand Keys conditions and wind, Summers said. A contracted design firm consulted with local residents and officials on the overall concept, she said. "We definitely used more flowers in that project than we've used in other parts of the Keys."
"I sort of like it," said Dick Hagood, executive director of the Morada Way Arts and Cultural District. "It looks nice and parts of the road needed cleaning up."
Some residents voiced concerns that the landscaping will limit parking, especially during well-attended events, he said.
"I don't they took away any parking except on the right of way," Hagood said. "DOT probably should have allowed more passageways for people who want to walk across U.S. 1."
Source: DOT gives four miles of U.S. 1 a new bloom | News | KeysNet