Cheeca Lodge & Spa will host its 28th annual Presidential Sailfish Tournament Jan. 26-28 at Whale Harbor's new banquet facility. This year the Presidential will serve as the third leg of the Florida Keys Gold Cup Sailfish Championship, which features 14 Gold Cup boats and benefits the Islamorada Charter Boat Association.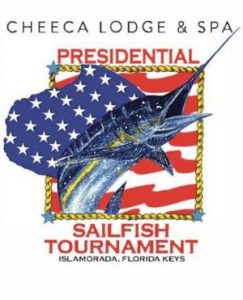 "Our Presidential Sailfish Tournament has become one of the year's most anticipated events, and we're pleased to continue the legacy at a new venue while we make progress to reopen our resort," said Bob LaCasse, general manager of Cheeca Lodge & Spa. "It's important to support the community by bringing much-needed business back to the Keys, and we want to help keep our captains fishing," he added.
During two days of fishing, the competitive sports fishermen will battle to take home top awards in a variety of categories, including grand champion angler, outstanding captain, outstanding mate, most tagged fish for angler, captain and mate, along with top female angler and junior angler. Winning anglers will be awarded framed artwork by renowned marine artist Roberto Pasta Pantaleo.
In keeping with Cheeca's mission to conserve and protect valuable Keys resources, all sailfish must be caught with a circle hook and released. The 2018 tournament will kickoff on Friday, Jan. 26, with a welcome cocktail party, rules meeting and dinner, followed by two days of fishing. The entry fee for the first angler is $775, and each additional angler is $725, with up to four anglers per boat. Additional social tickets for the kick-off dinner and awards presentation are available for purchase. It is not necessary to be registered for the Gold Cup to compete in the Cheeca Presidential Sailfish Tournament.
For more information, contact Lisa Thornhill at 305-517-4512 or by email at , or Liz Hill at 305-451-5094 or by e-mail at lizhillfirst@ bellsouth.net or. For entry forms, tournament rules and a schedule of events, visit cheeca.com/presidential.