Netflix has released its trailer for the third and final season of Bloodline Season 3, and from the looks of it, this embattled family is going to be dealing with a lot of turmoil as they answer for their litany of crimes.
The series will pick up with adult siblings John Rayburn (Kyle Chandler), Danny (Ben Mendelsohn), Kevin (Norbert Leo Butz), and Meg (Linda Cardellini) as they face the consequences of each other's criminal outbursts, particularly reeling from Kevin's brutal slaying of Marco Diaz (Enrique Murciano) in the Season 2 finale.
"Please don't judge us," John says in his usual voiceover refrain. "We aren't bad people, but we did a bad thing."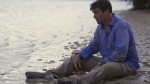 With a floating body, the looming threat of blackmail and vengeance, actual explosions, and the fatal fracturing of this once-happy, it's clear that the Rayburns' final stand in the Florida Keys will be intense.
Bloodline returns to Netflix for Season 3 on May 26th.