The Stoned Crab, Three Hands Fish, and Key West Legal Rum partner to create "Chef Distilled" and "The Three Hands Experience" packages to be offered beginning in the Fall of 2016.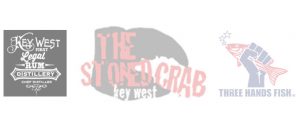 Taking a stand against the increasingly homo­genized American tourist experience, three local Key West businesses are banding together to offer two new 'eco-foodie' experiences that celebrate the locally-sourced seafood and organically-distilled rum that makes Key West a budding culinary capital of America. Beginning this fall, Key West Legal Rum, The Stoned Crab restaurant, and the Three Hands Fish market will offer locals and visitors alike Chef Distilled and The Three Hands Experience.
"Tourist destinations across the country are often threatened by mega-chain hotels, restaurants, and grocery stores, because they have the unintended effect of wiping away so much of what makes a community unique," stated Paul Menta, co-owner of Key West Legal Rum and Executive Chef at The Stoned Crab. "While Key West has held its ground admirably against this trend, Chef Distilled and The Three Hands Experience truly represent the culinary spirit, authenticity, and self-confidence that make Key West the destination that captured my heart nearly thirty years ago when I first arrived here by way of Philly."
Named after Menta's philosophy that each bottle of rum be distilled with the same care and precision as a dish served at his acclaimed The Stoned Crab restaurant, the Chef Distilled package includes a one-day, three-stage culinary experience that begins with an afternoon at the Key West Legal Rum distillery. Participants tour the hallowed halls of the distillery – which was the original location of early 20th-century prohibition hotspot Jack's Saloon – and learn how to ferment, distill, bottle, label and, most importantly, taste-test rum. Beyond departing with a newfound understanding and appreciation for rum distillation, each participant also leaves with a bottle of Key West Legal Rum, which they themselves have bottled and labeled.
Source: Celebrate 'Locally Fresh' with New 'Eco-Foodie' Packages – Food & Beverage Magazine