From Caribbean-like aquamarine waters to a friendly, island life attitude, the Florida Keys never fail to surprise first-time visitors. We love the food, rum, nightlife and sunsets, but were also charmed by the abundance of wildlife and the beaches (who says there's no beaches in the Keys?). The Keys manage to deliver the tropical vacations we love, but always with a little something extra we didn't expect.
Sunrise
The early bird catches the worm, the saying goes. Get up early in the Florida Keys and you'll get something much better — an awe-inspiring mix of fiery and golden hues painting the sky.
Beaches
By and large, the Florida Keys aren't known for their beaches, but there are certainly a few exceptions to the rule. Smathers Beach in Key West is the island's biggest and best-known beach, and it offers the coveted white sand and shallow water usually associated with the Caribbean.
Small but respectable South Beach and family-friendly Higgs Beach are two other favorites, and both skirt the island's Atlantic coast. Further east in Marathon, Sombrero Beach impresses with a few pristine, shallow coves, thick patches of palm trees and amenities like volleyball nets, pavilions and bathrooms.
Food
When it comes to food in the Florida Keys, variety and creativity abound. In addition to fresh catches and decadent Southern favorites, cuisine in the Keys infuses Latin elements, thanks to a thriving Cuban population. Grab a Cuban coffee — available at small family-owned coffeehouses throughout the Keys — to recharge for your vacation.
Rum
For years, distilling rum was off-limits in the Keys, due to laws still on the books from the Prohibition era, when islanders had to rely on the shady dealings of rumrunners to get their drink of choice.
A recent change to those laws has paved the way for local businesses like the Key West Legal Rum Distillery (the first legal one in the area) to concoct mixtures that capture the spirit and flavor of Key West. Stop by their distillery for a tour and a tasting session that might change your mind about rum forever.
Wildlife
From avian life to aquatic species and the occasional rogue rooster, the Florida Keys has its fair share of residents from the animal kingdom. Head to Robbie's Marina in Islamorada, where you can feed hungry swarms of giant tarpon — or save your goods for a pelican who's not too proud to beg.
Key Lime Pie
Rumor has it that key lime pie was whipped up on a whim by sponge fishermen who had eggs, condensed milk and key limes, but no access to refrigeration or equipment for cooking.
Traditionalists will want to try the tart, creamy treat the true Conch way — with the dense merengue topping. At Blonde Giraffe Key Lime Pie Factory in Tavernier, you can have it however you want: plain, with whipped cream, with merengue or even frozen and dipped in chocolate.
Boat Excursions
Though the Florida Keys consist of a smattering of land masses, most people come for what goes on away from shore. Whether for fishing, diving or sightseeing, boat excursions are the best way to acquaint yourself with the area's renowned aquamarine waters, not to mention its diverse marine life.
Snorkeling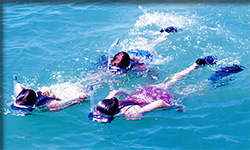 And speaking of excursions, don't leave the archipelago without booking a snorkeling trip with a tour operator, many of which offer drinks and snacks in addition to all the gear you'll need and some basic snorkeling instruction.
Sunset Watersports offers a 9 a.m. "Rise and Reef" tour that includes a light breakfast and a visit to a nearby reef at a rate of $40 for adults (children under 12 are $22; no charge for children under 5).
Sunsets
No matter where you are in the Keys, once the sun starts to dip, head to the nearest shore and watch the magic unfold. It's a sacred part of the culture down here, and also the most soothing way to transition from busy days to laid-back nights.
Nightlife
The Florida Keys boast a surplus of dockside bar and grills, humble watering holes and kitschy tourist hangouts. Duval Street in Key West is reminiscent of Bourbon Street in New Orleans — it's a wonderland of live music, tipsy partygoers, and turn-a-blind-eye attitudes toward the open containers law.
At Sloppy Joe's Bar, a former Ernest Hemingway hangout, live music, strong drinks and questionable company are the order of the day.
Source: VIDEO: 10 Things We Love About The Florida Keys – BeachDeals