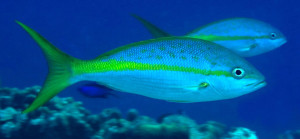 Federal fishery managers have approved a measure that they hope will prevent a closure like the one that occurred in the lucrative Florida Keys commercial yellowtail snapper fishery earlier this year. The South Atlantic Fishery Management Council agreed to modify the current fishing year for yellowtail snapper, changing it from a calendar year to an August to July fishing year for both the commercial and recreational fishery, South Atlantic spokeswoman Kim Iverson said.
The change was requested by fishermen so that any closures that may occur due to meeting the annual catch limit would coincide with the summer spawning season. The change still has to be approved by the U.S. Department of Commerce, which oversees fishery management. Yellowtail snapper are primarily harvested in the Florida Keys and some areas of South Florida.
The commercial fishery was closed on Oct. 31, after National Marine Fisheries Service projected the fishery would meet its annual catch limit of 1.6 million pounds. The season will not reopen until Jan. 1. While commercial fishermen lobbied to modify the fishing year, they have also called on the South Atlantic to reallocate some of the recreational catch to the commercial side, as the recreational side has only caught a little more than half of its 1.4 million pound annual limit, according to federal fishery managers.