New Regulations effective April 1, 2021
Seasonal Fishing Closure at Western Dry RocksFishing is prohibited within the marked boundaries near Western Dry Rocks from April 1 – July 31.

Note: Fish may be possessed aboard a vessel, provided such vessel is in continuous transit through Western Dry Rocks, fishing gear is appropriately stowed, and such resources are stowed in a cabin, locker, or similar storage area prior to entering and during transit through Western Dry Rocks.

PurposeTo increase the robustness of the spawning aggregations at WDR, therefore increasing recruitment, and improving resiliency in several important Florida Keys and south Florida fisheries.

FWC staff will provide the Commission with a 3-year check-in and a 5-year update on research and monitoring at Western Dry Rocks.
With stony coral tissue loss disease affecting the majority of the Florida Reef Tract, spawning of wild and lab-reared corals takes on greater urgency. During the August 2019 spawning event, an interagency team of divers conducted field collections at Western Dry Rocks, off Key West, with swimming larvae transported to The Florida Aquarium for settlement and grow-out. Coral typically spawn only once per year and, in the wild, may be too far apart for spawn to mix naturally. So, eggs and sperm are collected and mixed by hand to ensure successful fertilization. The resulting larvae will settle in tanks to be used for future restoration activities.
Researchers at the University of Miami, Nova Southeastern University, Keys Marine Lab, and Mote Marine Lab observed spawning of rescued corals including great star coral, elliptical star coral, and boulder brain coral. The Florida Aquarium made history simulating ocean conditions in a laboratory to induce natural spawning of endangered pillar coral. Scientists believe the breakthrough could ultimately help save corals in the Florida Reef Tract from extinction.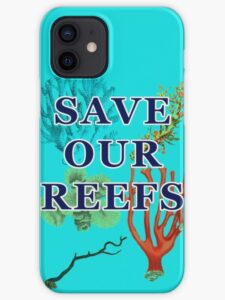 Features
Slim, one-piece, clip-on protective case

Impact resistant polycarbonate shell with protective lip

Super-bright colors embedded directly into the case

Slim fitting with design wrapping around side of the case and full access to ports

Compatible with Qi-standard wireless charging

iPhone 12, 12 Pro, 12 Pro Max, and 12 mini cases are compatible with MagSafe charging, too

Thickness 3/64 inch (1mm), weight 15g