An underwater concert is set to promote reef protection and entertain divers and snorkelers Saturday, July 8, during the Lower Keys Underwater Music Festival. The annual event takes place at Looe Key Reef, an area of the Florida Keys National Marine Sanctuary approximately 6 miles south of Big Pine Key. The sanctuary protects the waters surrounding the entire Florida Keys island chain including the world's third-largest living coral barrier reef.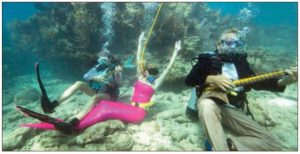 The concert draws several hundred divers and snorkelers each year to immerse themselves in the region's colorful underwater panorama. Staged by Keys radio station US1 104.1 FM, it provides a "submerged soundtrack" as they explore the realm of tropical fish, coral formations and other marine life. The activities begin at 6 p.m. Friday, July 7, with a welcome gathering with hors d'oeuvres and beverages at the Tiki Bar at Looe Key Reef Resort, 27340 Overseas Highway on Ramrod Key. For costs and reservations, call 305-872-2411. Saturday's sub-sea songfest is set for 10 a.m. to 2 p.m.
Music is broadcast underwater via Lubell Laboratory speakers suspended beneath boats positioned above the reef, and the playlist typically ranges from humpback whale recordings to oceanthemed ditties such as the Beatles' "Yellow Submarine" and the theme from "The Little Mermaid." Participants might even catch mermaids and other costumed characters attempting to perform their own marine melodies — pretending to play underwater musical instruments such as a trom-bonefish and clambourine sculpted by Florida Keys artist August Powers. The broadcast incorporates diver awareness announcements emphasizing ways to enjoy the reef while minimizing environmental impacts. Divers and snorkelers interested in participating can reserve space on boats run by Lower Keys dive operators or launch their own boats from public ramps and marinas in the area. For more information, visit lowerkeyschamber. com/festival.php.