If you are Flying to your Vacation Spot check this out. Southwest's big twice-a-year fare sale is back, with round-trip fares below $100 on dozens of the carrier's shortest routes.
The sale fares also include longer routes, with the price of flights loosely tied to distance. Flights begin at $49 each way on Southwest's shortest routes and increase to $79, $99 or $129 each way for longer flights.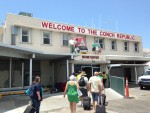 The sale launched Tuesday morning and is good for travel from Aug. 21 through Dec. 12. Flights on Fridays and Sundays are excluded from the sale as are certain dates around the Labor Day and Thanksgiving holidays. Schedules for Southwest's Florida, Nevada and Puerto Rico flights have additional day-of-week restrictions. Albany, N.Y., is excluded from this sale, though some $49 fares were showing up during the sale period.
More fine print: The sale applies specifically to non-stop flights, though many connecting itineraries may also show lower-than-usual fares. Seats sold at the sale prices are capacity controlled, meaning the cheapest seats will likely sell out on individual flights as the sale progresses.
Regardless of the details, bargain seekers will have to act quickly to snag the fares. The sale ends on Thursday (June 7) at 11:59 p.m. local time in the city of the departing flight. (Full sale details)  Post any deals you find in the comments.
Timing is everything, especially when it comes to cutting the cost of vacation airfare. The best way to do it is by putting together an itinerary that allows you to fly early in the season or late. Bottom line: If you can avoid the peak of the summer season – June 23 to Aug. 27 – you can cut costs. Exact amounts vary, but these examples will show you savings of $25, $70, maybe even $600.
Fares were found late last week on FareCompare's comparison tool; as always, prices can change without notice.
Fly before June 23
June 22 is the last day for cheaper pre-summer fares (but give or take a day or two, depending on where you live and where you'll travel). So June is generally cheaper than July, and here's an example of a couple of non-stop, round-trip flights from Boston to Orlando:
• June 15-18: $183.
• July 6-9: $205. Savings: $30.
These flights are non-stop, roundtrips between Denver and New York:
• June 14-18: $202.
• July 12-16: $233. Savings: $31.
This may not seem like much but if you're traveling as a family of four, it adds up. However, if you plan to fly sooner rather than later, you must hurry. Last-minute purchases rarely yield deals in the busy summer season. But there is another good time for cheaper airfare.
Fly after Aug. 27
On Aug. 28, the cheaper fall season kicks in. Let's look at the potential savings on non-stop, round-trip flights between Kansas City and New York:
• July 21-28: $344.
• Aug. 30-Sept. 6: $274. Savings: $70.
Keep these tips in mind as you shop for summer deals.
• Not all fares will be cheaper in June and September: Sometimes an airline will add seasonal flights that can bring down summer fares. Sometimes demand is slow and airlines lower prices to spur interest. Test for cheap fares by using a tool that pinpoints cheap fares by month or season; my site has one but there are many others out there.
• Always compare fares: This means looking at an airfare search site, but also checking with Southwest, which does not share its fare data.
• If you have to fly when fares are high: Consider traveling with a little less comfort such as connecting flights instead of non-stops (most are cheaper but not all so you will have to check). You might also consider flying low-cost carriers here and abroad such as Spirit or Ryanair, but be sure to factor in these airline's expensive fees.