Sunrise views of the Atlantic Ocean and Gulf of Mexico, Key West's picturesque landmarks and a unique endurance challenge are to lure athletes to the Southernmost Marathon & Half Marathon and Key West Running Festival.
Scheduled Saturday, Oct. 12, the event dubbed the "SoMo" offers participants the chance to strive for speed and personal bests in a 26.2-mile marathon or 13.1-mile half-marathon. Also planned are a 5k race and a fitness expo.
The full marathon is to begin at 5:30 a.m. Saturday and the half marathon at 5:45 a.m. The start and finish lines for both are at Lagerheads Beach Bar, 0 Simonton St.
Race-day packet pickup is available starting at 4 a.m.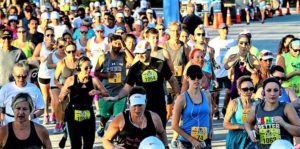 Runners in the Southernmost Marathon are to follow a flat, fast course that includes parts of Key West's historic Old Town, Atlantic and gulf shorelines, neighboring Stock Island and the scenic Florida Keys Overseas Highway. Half-marathon contenders are to race beside the ocean and gulf, through Old Town and onto Stock Island.
Water and "fueling" stations are to be located at regular intervals.
Awards await participants beginning at 9:45 a.m., when the presentation and post-race party kicks off at Lagerheads.
The 5k is scheduled Saturday as well, with a 6:30 a.m. packet pickup and 7:30 a.m. start. Racers run through parts of Old Town and into Truman Waterfront Park before returning to Lagerheads.
An 8 a.m. finish line party and 9:15 a.m. awards presentation round out the fun.
Before race day, runners can pick up their packets at Lagerheads from noon to 9 p.m. Friday, Oct. 11. A race expo is set for Friday at Lagerheads as well.
Entry fees are $130 per person for the full marathon, $99 for the half-marathon and $35 for the 5k. Registered racers can receive rebates for referring their friends.
Proceeds are to benefit Habitat for Humanity of Key West and the Lower Florida Keys.
Southernmost Marathon Race information and registration: multiraceflorida.com/,  somomarathon.com/