Snook Season, the recreational harvest of snook in Florida state and federal waters, will close on June 1.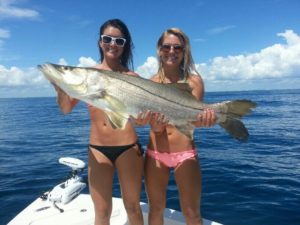 Snook Season will reopen for harvest in Atlantic state and federal waters, including Lake Okeechobee and the Kissimmee River, on Sept. 1. Snook is also closed for harvest in Gulf of Mexico state and federal waters, including Everglades National Park and Monroe County, through Aug. 31, reopening Sept. 1.
Unique to the region, snook are one of the many reasons Florida is the Fishing Capital of the World. Seasonal harvest closures help conserve Florida's valuable snook populations and improve the fishery for the future.
Snook Catch and Release

Snook can be caught and released during the closed Snook season, but anglers should use proper handling methods to ensure the species' abundance for anglers today and generations to come. Capturing a catch on camera is a great way to share your experience with others and to create lasting memorabilia.
It is okay to take a picture of a fish that is not allowed to be harvested while it's in the process of being released, but it still must be let go immediately after. A fish should not be held out of the water for long periods of time just for the purpose of taking a picture. Remember, when taking a picture of your catch, hold the fish horizontally and support its weight with both hands. This decreases the possibility of damaging the fish internally.
To learn more and see a video about catch and release fishing and the best way to handle a fish, visit MyFWC.com/Fishing and click on "Saltwater" then "Recreational Regulations" and "Fish Handling."
Anglers can report their catch on the Snook & Gamefish Foundation's website at Snookfoundation.org by clicking on the "Angler Action" link in the bar at the top of the page.
Learn more about recreational fishing at MyFWC.com/Fishing by clicking on "Saltwater" and "Recreational Regulations."
Source: Atlantic snook to close in state and federal waters – – Gmail