Sculpture Trail. Creativity is seemingly built into the DNA of the Florida Keys. Without even stepping inside a gallery or studio, visitors exploring the island chain can encounter an eclectic variety of open-air artistry. Prime among the outdoor creations is a collection of thought-provoking large-scale sculptures.
The 81-mile Florida Keys Sculpture Trail extends from Islamorada to Key West. Situated at locations along the Florida Keys Overseas Highway — the only road stretching throughout the island chain — the sculptures are easily viewable by people traveling around the Keys.
The public art trail was the vision of Key West philanthropists John Padget and the late Jacob Dekker, who gifted the sculptures to the Keys community, and it's still growing.
Its newest additions include a massive sundial-inspired piece titled "Wave Henge," by Damon Hamm and Jeff Sundheim, placed at Key West's Truman Waterfront Park; "Gaea," named for the mythological Greek goddess and sculpted by Gaia Grossi, at Mote Marine Laboratory near mile marker 24 on Summerland Key; and "Moiré 3," a shell-like steel mesh construction by Frank Michielli installed in Big Pine Key Community Park at 31009 Atlantis Drive on Big Pine.
Also recently installed are "Red Nun" by Jamie Emerson, near the entrance of Crane Point Hammock at mile marker 50 in Marathon; and "Fragments" by Shiho Sato, at the mile marker 80 rest park in Islamorada.
The sculptures were created by artists participating in the prestigious Art Students League of New York's "Model to Monument" program. The works' relocation and placement in the Keys is a collaborative effort involving the Florida Keys Council of the Arts and the Monroe County Art in Public Places Committee.
Earlier installations along the trail include "Leaves of Grass" by Markus Holtby, standing at The Art Studio at mile marker 53.6 in Marathon; and "Avis Gloriae et Lavdis," or "bird of glory and praise," and "Nature Eternal" — both by Sheila Berger and welcoming visitors at the Key West International Airport.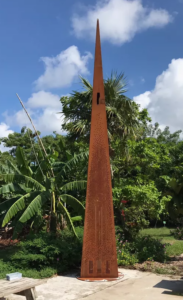 "Wind Tower," a collaborative piece by seven of the "Model to Monument" sculptors, is located in Grimal Grove at 258 Cunningham Lane (at mile marker 30) on Big Pine Key.
"Stand Tall, Stand Loud" by Aaron Bell and "Everyone Breaks" by Tanda Francis share the landscape at oTHErside Adventure Park at mile marker 59.3 on Grassy Key. Sarah Thompson Moore's "Everything Between" is installed in Islamorada Gardens at mile marker 81.
Visitors eager to travel the trail and view the artistry can find an easy-to-use map in the arts council's annual Gallery Guide. It can be accessed and downloaded at keysarts.com/artist_connections/gallery_guide.pdf
Sculpture Trail information: keysarts.com or 305-295-4369
Source: Sculpture Trail Enhances Island Chain's Landscape | Florida Keys Newsroom