The normally red-hot Florida Keys spiny lobster fishery in South Florida seems to be cooling off this season, or at least Asian buyers seem to becoming more shrewd about the lucrative market. Spiny lobster is the Florida Keys' most profitable commercial fishery, generating more than $50 million a year directly to the local economy. "Prices are down, but not considerably," said Conch Key fisherman Gary Nichols said. "I think [Asian buyers] are starting to understand the business more, and there is not as much competition going on between them." About 90 percent of the harvest of spiny lobster in the Keys has been going to Asian markets in the past five years. During that time, Keys fishermen have spent thousands of dollars retrofitting their boats with live wells to keep lobsters alive and healthy, which is required by Asian buyers.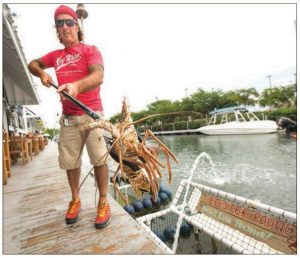 In the past several years, prices for Florida Keys Spiny Lobster have skyrocketed with fishermen at certain times of the year being paid as much as $19 a pound, especially during Asian holidays. Prices paid to fishermen this year have averaged about $10 a pound, Nichols said. The catch has also been down since season opened the first week of August, according to fishermen. "I would say the catch has been off at least 30 percent, and I would attribute that to weather," Nichols said of another season without a lot of severe cold fronts. "My catch has been down from the past three years." Lower Keys trap fisherman George Niles said his catch is off by 50 percent from last year, which was his best year fishing, he said. "It's just part of the cycle," Niles said. "We have had a few good years in a row, so it only makes sense that we have a not-so-good year."
A natural predator of lobsters has also made catching the crustaceans difficult this year, Nichols said. Large numbers of octopi have been showing up in lobster pots this year. At times, Nichols reported catching more than 100 pounds a day of octopus. "It drove the lobsters completely out of my traps," Nichols said.
Florida Keys Spiny lobster season ends March 31.
The stone crab fishery, which is also currently in season as well, seems to be doing well this year. Demand has been good and prices have been fair, Nichols and Niles said. "The last three years, harvest has been on the upswing," Nichols said. "It started off good, crashed and has been inching its way back up," Niles said of the price. Stone crab season ends May 15.
tohara@keysnews. com