For those eager to share time and meaningful experiences with friends and family after coronavirus constraints, a new social media competition offers the chance to reconnect during a Florida Keys getaway.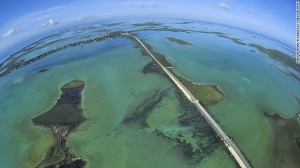 The "Reconnect in the Florida Keys" video challenge kicks off Tuesday, May 11, with the winner to receive a four-night Keys vacation for four.
To enter, participants must create a smartphone video of one minute or less that explains who they desire to reunite and strengthen bonds with — family members, close friends, college roommates, longtime colleagues or others — and why.
After briefly capturing their "who" and "why" on video, entrants are to submit the piece for a chance to turn the wish into reality — a reality surrounded by the blue water, environmental treasures and laid-back vibe of the continental United States' southernmost island chain.
Valued at over $4,300, the "Reconnect" prize includes vouchers for air travel and car rental, two nights' accommodations at Islamorada's Islander Resort Bayside Townhomes and two nights at Oceans Edge Resort & Marina near Key West. Winners also can experience Florida Keys Aquarium Encounters in Marathon and watersports adventures with Fury Key West.
The contest entry page link is to be published in posts on the Florida Keys' Facebook page and as a link below the bio (@thefloridakeys) on Instagram and Twitter.
The trip giveaway entry period begins at 9 a.m. (EDT) Tuesday, May 11, and continues through 11:59 p.m. (EDT) Tuesday, June 1. Rules and terms are to be available on the contest page.
Just one entry per person is valid, with the winner selected from all eligible submissions. Contest results are to be announced by June 16.
Source: 'Reconnect' Video Contest Offers a Chance to Win a Florida Keys Getaway for Four | Florida Keys Newsroom