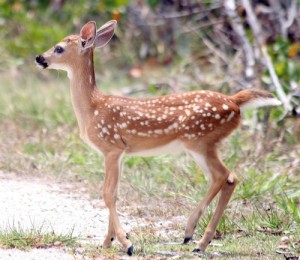 The drive "Save the Key Deer" that started in 1950 issued a progress report. A survey when the drive began showed not more than 30 of the deer existed; in three years, the number had nearly tripled.
Today: Estimates of the Key deer population have increased by about 60 percent from a 2004 estimate of 500 deer, Florida Keys National Wildlife Refuges Manager Nancy Finley said. The current estimate of 800 deer means the population "probably is at carrying capacity," or the level at which the environment can sustain them, for the species' Lower Keys range, she said. "But it's very complicated with Key deer."
Last year, 157 deer were struck and killed by cars, a deadly record.
PLEASE SLOW DOWN AND WATCH FOR KEY DEER!