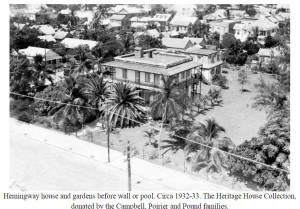 1964: The Hemingway House was formally dedicated as a museum honoring the memory of the late Nobel and Pulitzer Prize winner who lived in Key West in the 1930s.
The house stands at an elevation of 16 feet above sea level, and is still the second-highest site on the island. It was originally built in 1851 by Asa Tift, a marine architect and salvage wrecker, in a Spanish colonial estate style, out of limestone quarried from the site. As testament to its construction and location, it survived many hurricanes, and the deep basement remained, and remains, dry.
In 1937, when Ernest was in Spain, Pauline hired Ernest's friend, driver, and handyman Toby Bruce to build the high brick wall that surrounds the house today.