For the past few months, Kenneth Lohmann has been building markers and placing them on rocks in the waters outside his bayside home in the Hammer Point neighborhood of Tavernier. The markers are to safely guide boaters away from the dangerously shallow water next to the area's canals.
The longtime Florida Keys resident turned 90 in August and is still mourning the loss of his wife, Bunny, who died three years ago. He sees his marker project as his legacy for the home he has loved so much.
"I want to leave something behind," he told the Free Press.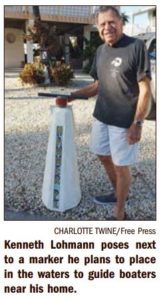 He makes all the markers on a terrace outside his house from cement and stucco, and then he paints them, usually red, white and blue. He said he thought of the idea to create the more aesthetically pleasing lighthouse-shaped markers because the previous markers on the rocks — makeshift piles of PVC pipes, traffic cones or paint cans — were just plain ugly. Besides, he likes to always have a project on hand to tinker with.
"Truthfully, I enjoy doing things, keeping busy. That's why I reached 90, because I've always been active," said the retired furniture designer. "I have so many things in this house that are different, a laundry chute, a recycling chute and an elevator. Things that I have done and created. That's what I did for a living — creating things that are out of the box."
He and his family moved to the Keys from the New York City area in 1978. He is grateful to the area for the beautiful life it gave him. He has fond memories of spending time in the water with his four children, and he is carrying on that tradition with his 10 grandchildren.
"I taught them how to swim, ski and fish. It's quite a legacy," he said. "I've been enjoying a lifestyle here that is incredible, and I don't intend to ever move from here. I'll stay here till the end. I love it. Unfortunately, it's lonely without my wife. My children visit me. They came from all over the country for my 90th birthday. It was quite a surprise."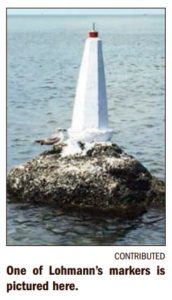 Lohmann has installed five markers so far, and he has four more to go. They are 200 pounds each and are difficult to transport out to the rocks for installation. He recruited two neighbors to help him install the previous markers, but he is looking for more volunteers for the others. In order to transport and place the markers, he has improvised a system that uses a wooden crane, kayaks and a winch.
Lohmann said he didn't get permission before placing the markers.
"My granddaughter is an attorney, and she said, 'Grandpa, you could get in trouble.' If I get in trouble, it'll be newsworthy. I don't think they'll put a 90-year-old man in prison," he said, chuckling.
Burke Cannon, president of Hammer Point's homeowner's association, said he supports Lohmann's project.
"If it benefits the homeowners and their navigation, I don't have a problem with it," he said.
Robert Dube is the regional public information officer for the Florida Fish and Wildlife Conservation Commission, which is an authority that oversees the legality of navigational markers. Though he pointed out that Lohmann's mini-lighthouses are not legal aids to navigation, he didn't foresee any official backlash for their placement.
"I don't know who owns the rocks, but if it's for safety reasons to keep people from running aground, it's a good thing," Dube said. "If he's building them on rocks already there, then he's good to go. We're just not allowed to place anything in the water that would be considered littering. I'm all for it."
Neighbor Mike Krutulis is one of the volunteers who helped place the markers.
"I think it's a very nice thing," he said. "He puts out his own money for it. If you look at Hammer Point, we've got those rocks out there and really no navigational devices to guide you in, especially at night. It marks the entrance to each point."
Krutulis also commends Lohmann's energy. "At 90 years old, we should all be in as good shape as he is."