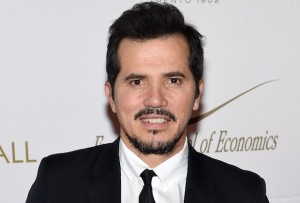 Another skeleton has tumbled out of Danny Rayburn's closet, and this one looks a lot like John Leguizamo.
Spoiler Alert: It is John Leguizamo.
The multi-hyphenate is joining Bloodline's upcoming second season in a series-regular role that has strong ties to Ben Mendelsohn's late (but still viable) black sheep, TVLine has learned exclusively.
"We've been huge fans of John's acting and writing for many years, and are absolutely thrilled to be collaborating with him," said Bloodline's exec-producing triumvirate, Todd A. Kessler, Glenn Kessler and Daniel Zelman, in a statement to TVLine. "His enormous range and fearless creativity make him a perfect fit for this character — and an incredible addition to the stellar cast we're so fortunate to be working with."
Leguizamo's past TV credits include The Kill Point, My Name is Earl and ER.
Going into season two, the Rayburn family is still reeling from two major losses. Before Danny's death, patriarch Robert Rayburn (Sam Shepard) passed away in the fifth episode, something that was always planned as the end of that collection of episodes' first act.
There's such a center of gravity around the patriarch and matriarch of the family. And if you remove that center of gravity, and that's essentially what we do by having Robert die, everyone looks to John to take that role," Kessler says. "And it also allows for things that can never be resolved, now that Robert is dead."
In the wake of Robert's death, Danny becomes a more frightening person to his siblings.
"There's a certain inevitability to how things unfolded. I also think that Danny's creating the inevitability. He's pushing that," co-creator and executive producer Daniel Zelman says. "I don't think he's specifically thinking, I want them to kill me so they have blood on their hands, but I do think he's pushing them to an extreme place. Because he wants them to, and particularly John, he wants to show that John is not the good guy everyone thinks he is, that John is capable of getting pushed to being knocked off his pedestal. Ultimately it backfires on him, because he gets killed."
Bloodline Season 2 is slated to be released during the first half of 2016.
Source: John Leguizamo Cast in 'Bloodline' Season 2, Man From Danny's Past | TVLine