Following a lengthy legal battle, the Islamorada Publix has resubmitted plans for its proposed grocery store development on Upper Matecumbe Key. These include a demolition permit as well as a building permit for the mile marker 83.2 property. Village Planning Director Cheryl Cioffari said the documents are currently being reviewed by all departments. If submitted paperwork by the applicant is accurate, she said it will be 30 to 60 days before approval. After that, demolition and construction can begin immediately. An estimated timeline of work was not available by press time.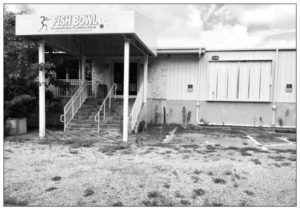 The roughly 5-acre bayside property is the former homes of a gas station and repair shop, the Islamorada Chamber of Commerce, Coral Reef Title, Coral Grill and the Fish Bowl. As of last week, the vacant Fish Bowl was all that remains. It will be demolished once a permit is approved by the village. The initial approval of the Islamorada Publix in 2013 caused a divide between residents who were welcoming of a chain store and those who weren't keen on the size and location, which included some on that council.
Residents expressed concern, among other issues, that a dock listed on the plans wasn't initially included and would be used as a daily loading and unloading zone. The developer, amid those concerns, added a turnaround on that specific dock so trucks need not backup onto the street and cause safety issues for others walking and driving on the road. Despite that change, a lawsuit ensued and dragged on for months. A judge eventually found in favor of Publix, saying the village acted within its rights by approving minor deviations to the original building plans. Bernard Danzansky, with Equity Development Group, is the builder behind the development. He previously dismissed the lawsuit as a smoke screen intended to slow the development process down.
bbowden@keysnews. com