My Winter Vacation in Key Largo, Florida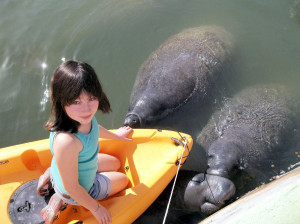 This winter break, my family and I stayed at Eagle Cove and we enjoyed our visit A LOT. The house was beautiful! The beds were REALLY comfortable and the bedspreads were so pretty and fun – mine had flip-flops on it J. Another thing I liked was that in the daytime there was tons of light coming into the house, so it was always cheerful and bright.
The whole neighborhood is very nice – it's so cool that there are palm trees and even bananas growing right in front of the house! We took a lot of trips and saw a lot of great things in the Keys and Everglades, like alligators, birds, deer, and dolphins, but my favorite experience was just a few minutes away from where we were staying! In the canal behind Giana and Chanoch's house there were manatees swimming right there! I got to climb down into a little kayak and pet them! It was incredible!
Our vacation in Key Largo was awesome! I would gladly come back and stay at Eagle Cove again.
Thanks for the wonderful stay,
Nina M