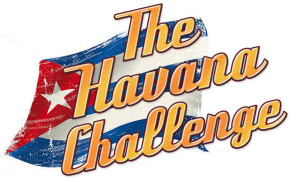 The organizers of the first sanctioned Hobie Cat sailboat race between Key West and Havana, Cuba, will be trading in their sails for high performance engines for another flotilla between the two countries in November.
The group of Key Westers who organized the Havana Challenge in May will be kicking it up a notch in the speed department for the Havana Thunder Challenge Nov. 17-20. The organizers plan to take a flotilla of about 10 race-style powerboats and 20 other boats to Havana.
The five-day event will be underway just days after the annual powerboat races in Key West and the Florida Powerboat Club's annual powerboat poker run from Miami to Key West, which brings in hundreds of powerboat enthusiasts and their high-performance vessels.
The event is not a race like the Hobie Cat contest, but a flotilla and cultural exchange focusing on maritime heritage, said Jim Gilleran, an organizer of the event. Some of the events include a powerboat expo at Marina Hemingway on the outskirts of Havana and boat parade and "performance exhibition" along the historic seaside Malecon highway in Havana.
"There will be no boats racing neck and neck," Gilleran said.
Gilleran was among about 100 Key Westers who participated in the Havana Challenge sailboat race last May.
"There was such a good vibe and the people were really happy to see us," Gilleran said. "The response from the Cubans was amazing."
Like the Hobie Cat race, the Hemingway Marina and its commodore, Jose Escrich, and Key West Yacht Club Commodore Bob Harvey will play instrumental roles in the November event, organzers said. The two and their yacht clubs have established a close relationship in the past year. All of the Havana Challenge events were run out of the Marina Hemingway and its hotel. Harvey and Escrich are constantly emailing each other, Harvey said.
"What a great guy Escrich is," Harvey said. "This is going to be another great event. I am very excited to be a part of it."
The Havana Challenge, which was organized by Key West captains George and Carla Bellenger and Joe Weatherby, was not only the first sailboat race in more than 50 years, but the first opportunity for Mayor Craig Cates, Harvey and other local Key West dignitaries to talk directly with their counterparts in Cuba about re-establishing relations between Key West and Havana.
In December, President Barack Obama eased travel restrictions to the island nation, which has led to a swell of interest not only from people looking to vacation there, but airlines, ferry service and cruise ship companies and other travel businesses.
"There's a real pent-up appetite for Cuba," Weatherby said. "There is a large group of people who have a curiosity. It is so close but has been so far away in the past. The first Havana Challenge is something that made me feel very patriotic. It is something I won't ever forget."
The Havana Thunder Challenge is accepting applications for people who want to participate in the trip, but "the window is very short," Weatherby said.
More information on the flotilla can be found on the Internet at havanathunderchallenge.squarespace.com.
Source: Revved up flotilla planned for Cuba in November | KeysNews.com