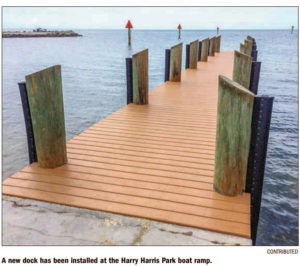 Monroe County last week completed a $33,828 project to repair the dock next to the boat ramp at Harry Harris Park. They stripped the dock down to the pylons. Removing and repairing the old decking and the support structure. A new structural plastic decking, which is slip resistant and low maintenance, was installed.
More Boat Ramp Projects
The county also is working on two boat ramp projects. On June 20, construction will begin a $112,525 project to repair the county boat ramp at the end of State Road 4A on Little Torch Key. The County will be closing the ramp during construction. The Construction is expected to be completed Sept. 18. The third boat ramp project, at the end of Barcelona Avenue on Big Coppitt Key, is it now out to bid. It will add a concrete dock with stainless steel cleats. That project will not begin until August at the earliest, officials say.