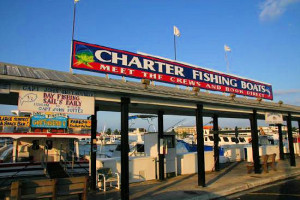 Smartphone apps have made everything from hiring a car service to shopping much easier. And unfortunately for Florida Keys fishing charters boat captains, it has also made booking an unlicensed fishing charters just as easy.
The Key West Charter Boats Association has reached out to the Florida Fish Fish and Wildlife Commission for its help to combat the growing problem of illegal charters, and the FWC has agreed to assist.
The local FWC has hired a "computer/internet investigator," who will be focusing on such crimes, FWC Capt. Dave Dipre said. Dipre did not want to say which smartphone apps or specific websites they are investigating or perusing.
"The FWC is aware and we are investigating," Dipre said. "If we find people using these apps to run unlicensed trips we will cite them. We have already sent some people on charters."
Charter Boats Association board President Brice Barr likened the issue to what is going on with Uber. Illegal charter operators do not have the proper state and federal fishing licenses needed to run charters, Coast Guard boat certifications or city and county business licenses or pay the proper state and local sales taxes, Barr said.
The illegal charters are not only limited to fishing trips, but also diving and snorkeling, Barr said.
"It may be cheaper, but you don't know what you are getting and whether they have the proper licenses or insurance," Barr said. "It's like hiring a contractor to work on your home. You don't know if the work is being done to code or if it is being done right … If you do book a trip and are not sure if they are a licensed captain, ask for their paperwork. They have to keep it on their boat."
Barr questioned if unlicensed fishermen were familiar with all of the complicated state and federal fishing rules and bag and size limits. "It's confusing enough for those of us who know the rules," he said.
Fellow charter boat captain Richie Gomez argued that the business is competitive enough without facing competition from unlicensed captains.
"It takes one more piece of a shrinking pie," Gomez said. "We are dealing with enough competition. We don't need illegal competition."
Gomez commended the FWC looking into the issue.
Source: FWC looks online at illegal charters | KeysNews.com