At its May meeting, the Florida Fish and Wildlife Conservation Commission (FWC) approved proposed management regions and regulation changes for redfish in state waters. 
The proposed rule changes would: 
Modify the redfish management regions. (See figure 1)

Prohibit captain and crew from retaining a bag limit when on a for-hire trip.

Reduce the off-the-water transport limit from six to four fish per person.

Increase the bag limit for the Big Bend region from one to two fish per person

Reduce the eight-fish vessel limit in each of the proposed management regions:

Panhandle, Big Bend, Northeast: four fish.

Tampa Bay, Sarasota Bay, Charlotte Harbor, Southwest, Southeast: two fish.

Allow only catch-and-release fishing for redfish in the Indian River Lagoon region. 
"With this new management approach, this agency is committed to continuing to work with our partners and stakeholders in finding solutions for redfish" said FWC Chairman Rodney Barreto. 
Staff plans to continue to gather input on the proposed rules and will return to the Commission for a Final Rule Hearing later this year. 
The modification of redfish management regions and regulations, as part of the new management approach, will better capture regional differences and improve angler satisfaction. 
For more information, including the May 2022 Commission meeting presentation, visit MyFWC.com/Commission and click on "Commission Meetings." 
For current recreational redfish regulations, visit MyFWC.com/Marine and click on "Recreational Regulations" and "Redfish." This page will be updated with the new regulations when they take effect.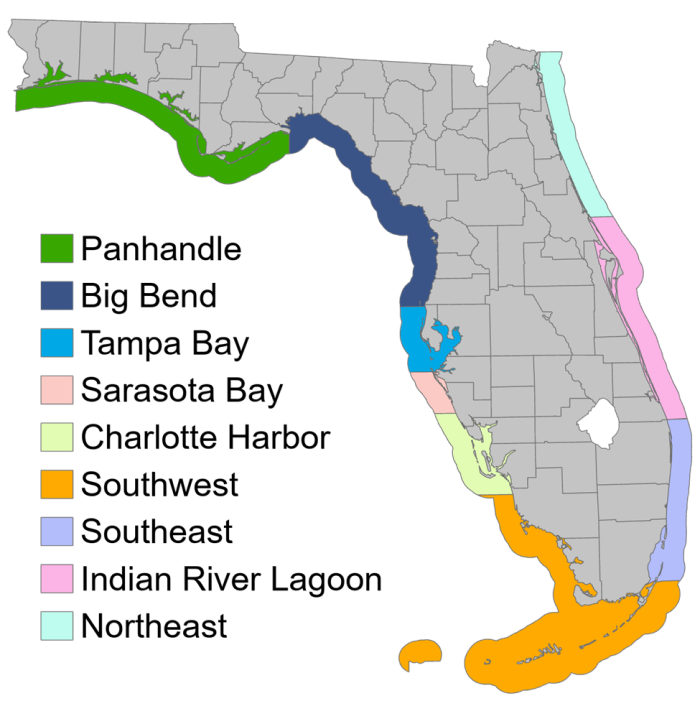 Source: FWC approves proposed redfish rule changes for state waters 
Red Drum (Redfish)
Sciaenops ocellatus
Appearance
Body is copper-bronze, fading to a lighter belly
One or more dark, ocellated spots at base of tail (occasionally without spot)
Lack barbels on lower jaw
Large scales
Powerful pharyngeal teeth used to crush oysters and other shellfish
Similar Species: Black drum, P. cromis (has chin barbels and lacks spot on tail)
Size: Up to 61 inches
Habitat
Coastal waters. In winter, redfish are found in seagrass, over muddy or sand bottoms, or near oyster bars or spring fed creeks.
Behavior
Juvenile redfish are an inshore species until they reach roughly 30 inches (4 years). They then migrate to the nearshore population.
Prodigious spawners that produce tens of millions of eggs. Spawning season is from about August through December, in passes, inlets and lagoon estuaries around the state. During spawning season, redfish use special muscles rubbing against their air bladder to produce a "drumming" sound for which they are named.
Feed on fishes and invertebrates.
Additional Information
State Record: 52 lb 5 oz, caught near Cocoa (1996)
Fishing Tips and Facts: One of Florida's most popular sport fish and the state's most widespread estuarine fish. Floating a live shrimp under a popping cork is a good way to fish for redfish. They also chase crabs, mullet, pinfish and killifish (mud minnows). Casting soft-bodied jigs, spoons and even top-water plugs will catch the attention of these powerful estuarine musicians. Redfish make great table fare.
These Keys Treasures Designs and many more are available on products such as T-Shirts, Stickers, Magnets, Mugs, Phone Cases, and much more at KeysTreasures.ReBubble.com