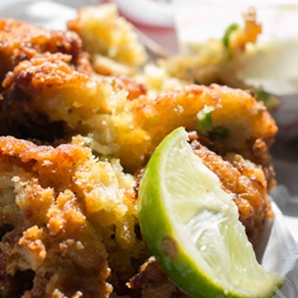 The 113-mile drive along the Florida Keys is unlike anything else in the country. Before giving it a whirl, however, you're going to want to load up on some conch fritters and red snapper strips.
Alabama Jack's
in Homestead is the place to do it. It's here, at the very tip of mainland Florida, that you'll encounter an outpost on the edge of civilization. Bikers, fishermen, local hooligans, and tourists passing through all mix together to grab a meal on some paper plates and listen to live music on the wooden dock over Little Card Sound.
Part of the fun of journeying south along the Keys is the unmistakable sense that you're dropping off of the map, and leaving America entirely. Stop by Jack's and you'll see why. Crack a cold beer and take in the sights. Heck, even Jimmy Buffett's sung this place's praises. Word to the wise: don't bank on eating dinner here, as the place closes up at 6:30 pm each day.
Source: Alabama Jack's, Homestead, FL.: Best Seafood Shacks in the US – MensJournal.com