As you head south to Key Largo, Dagny Johnson Hammock Botanical State Park sits along the east coast — boasting stunning jungle-like views and coastal sightlines; but if you venture to the right spots, you can find some cool abandoned buildings to explore.
In order to explore some of these locations, you'll have to acquire a back trails permit from the ranger station at John Pennekamp Coral Reef State Park .
Once you have that permit, that's when the real fun begins. Dagny Johnson Hammock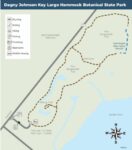 The permit grants access to an additional 6 miles of nature trails. Not too far off of the main pathways, a few awesome places hide waiting for you to explore them; most will easily find the abandoned barn with a tree growing through the center. It's been tagged as "Fort 420", according to some visitors.
The park was originally slated to become a condominium complex; the plans were later abandoned due to Dagny Johnson being home to one of the largest tracts of West Indian tropical hardwood hammocks in the U.S. according to their website.
Be sure to mind your urban exploration manners by not taking any souvenirs, abiding by any no-trespassing signs, and leaving nothing but footprints.
For much more info and photos go to: Abandoned Places To Explore In Florida Include Hidden Buildings At State Park In Key Largo – Narcity