Just a few short hours from Miami lies a place where palm trees sway in the breeze, restaurants and tiki bars line the water's edge, boats bob up and down in the blue-green water, and colorful signs are found at many of the local shops. It's the Florida Keys, a chain of islands 120 miles long, that truly has something for everyone, with no passport required.
Various family members had spent some time in the Keys over the years, but I had not, so we decided it was the perfect place for a tropical summer vacation. I'm excited to say that there were so many cool things to do, especially with teens, that we can't wait to go back!
Here are 10 things you should put on your list for a Florida Keys vacation.
1.  Take a Snorkel Sunset Cruise. Key West is known for many things, but sunsets are a specialty of the island. There are several fun ways you can enhance your sunset experience.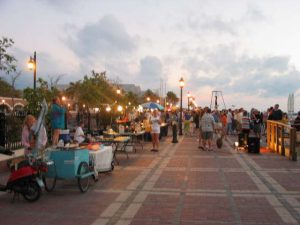 You can hang out in Mallory Square for the famous nightly Key West Sunset Celebration, and be entertained by magicians and jugglers while watching the setting sun do its magic. Another popular option is to view the fiery red and orange sky from the deck of a boat. I was very excited when I found the 

Sebago Snorkel and Sunset Cruise
, as I wanted to view the sunset from the water, but was hesitant to spend several hours just hanging out on a boat with an open bar and 3 teenagers. Our boat captains were friendly and helpful, and we spent a good portion of our cruise snorkeling off a reef before we got back on the boat to enjoy complimentary drinks along with the fiery orange sunset. We also took the opportunity to enjoy the sunset celebration in Mallory Square the following night. Both were perfect nights for a family with teens.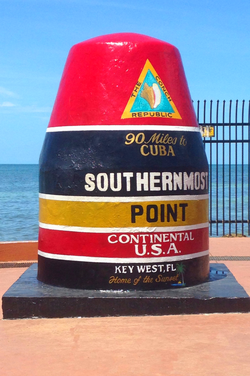 2.  
Hop on the
Old Town Trolley Tour
in Key West
. Buy a pass for the day, and take your time listening to the 90 minute tour while you hop on and off the trolley in Key West.  With 13 stops and over 100 points of interest, including the iconic photo opportunity at the southernmost point in the continental US, it's definitely the best way to learn about this fascinating island and see the sights. Kids 12 and under ride free.  Plus if you are visiting over the summer like we did, it's a good way to beat the heat!
3.  Feed the Sharks at the Key West Aquarium
. This small aquarium allows guests to get up close and personal with some of their favorite sea creatures. Four times a day, guides give an educational talk, and allow guests to drop food to the hungry sharks, which my teens were definitely excited about! There are also opportunities at the Touch Tank to visit with hermit and horseshoe crabs, conchs and sea stars. It's a great break from the hot sun, and it's stop #1 on the Old Town Trolley Tour.
4.  Tour the Turtle Hospital in Marathon. This small hospital has a big mission – to rescue, rehab and return sick and injured sea turtles. Taking a tour is a good way to spend the afternoon out of the hot Florida sun and meet some of the 63 turtles currently living at the hospital. Teens will love being able to see these graceful creatures up close, gliding through the water. Guided tours run daily on the hour, and we learned so much about the many issues that impact turtles today. This is not to be missed on a trip to the Florida Keys.
6.  Hang out at Robbie's on Islamorada and Feed the Tarpons.  What teenager doesn't want to hang over the side of the dock and have a hungry and scary looking tarpon grab a fish right out of their hand? When the tarpon are done feeding, sit down at the Hungry Tarpon restaurant to enjoy food specialities like conch-amole or a Florida Keys Hogfish sandwich. On your way out, be sure to browse the open air shops. If you can, feed the tarpon early in the day when they are most hungry.
7.  
Spend the Day at a State Park.
 There's plenty of water surrounding the Keys, but before we went, I had several people tell me that the beaches would not be the same as what I was used to. Lucky for us, we found 
Bahia Honda State Park,
 a fabulous state park located at MM 37. Yes, some might complain about the seaweed on the beach, but the water is so beautiful, with two beach areas and snorkeling off the beach. The park has showers and a gift shop with concessions. It's also the best place to take the snorkeling boat to Looe Key Reef (see #8).  We also spent a day at 
Fort Zachary Taylor State Park
 (pictured below), a National Historic Landmark, which I think has one of Key West's best beaches. It's a perfect place for teens to snorkel, and there are food concessions, along with picnic tables and grills. Bring your own gear or you can rent whatever you need. Either way, plan to spend at least a day at one (or both!) of these scenic state parks.
8.  
Snorkle on
Looe Key Reef.
 During our day at Bahia Honda, we had reserved the afternoon snorkel trip out to Looe Key National Marine Sanctuary. What an amazing experience! Over 150 species of fish live on the reef, including parrotfish, barracuda, and
angel fish
, along
with  many
species of coral.  At one point, a reef shark swam several feet below my daughter, but fortunately (or unfortunately) my head was out of the water at the time so I was the only one in the family who missed it. A truly memorable day for all of us.
9.  
Relax at Hawks Cay Resort.
 Between the pools, watersports and hourly activities, teens will find plenty to do at this luxury resort in Duck Key. We spent the last 4 days of our trip here, and really enjoyed relaxing in our villa on the harbor. Read more about our stay at 
Family Friendly Hawks Cay Resort in the Florida Keys
.
​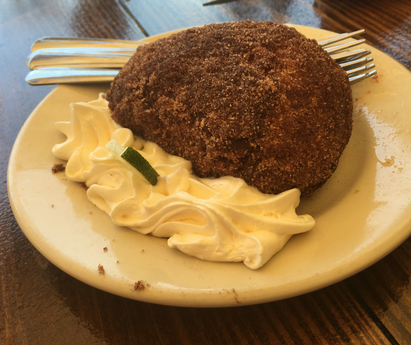 10.  
Eat Key Lime Pie.
 From Key Largo to the most southernmost point on Key West, you'll find Key Lime Pie in various forms. From straight up pie, to chocolate covered pie on a stick, to the ultimate deep fried key lime pie rolled in cinnamon sugar (my favorite – see below), you'll surely regret it if you don't try this island specialty. This one came from 
The Island Fish Co.
, with lots of forks, and yes, it was as good as it looks!
Disclaimer: Thanks to Historic Tours of America
for hosting my family on the Key West Old Town Trolley Tour and the Key West Ghosts & Gravestones Tour. As always, all opinions are my own.
Source: http://familytravelsusa.com/2/post/2016/09/10-things-you-must-do-in-the-florida-keys-with-teens.html