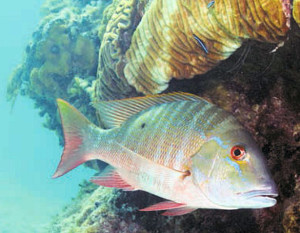 State fishery managers will take the first step this week in lowering the bag limit for mutton snapper, one of the Florida Keys' most highly targeted species of fish. The Florida Fish and Wildlife Conservation Commission board will meet Wednesday, Nov. 18, in Panama City to discuss a series of proposed reductions to the mutton bag limit. The FWC staff recommended lowering the recreational bag limit for mutton snapper from 10 fish per angler per day to five fish per angler during the regular season, which runs from August through April. During the spawning season, May through July, staff proposed further reducing the recreational bag limit to two fish per angler and establishing a vessel limit of 12 fish. "This would address the most commonly heard concern that anglers take too many mutton snapper during the spawning season," FWC staff wrote in a report to the board. "A vessel limit of 12 fish may also discourage recreational anglers from attempting to sell their recreational bag limits, which is illegal."
For the commercial fishery, staff recommended considering separate gear-specific trip limits during the regular season, such as 300 pounds per trip for hook-and-line vessels and some other limits for long-line vessels that operate in Gulf of Mexico federal waters. Also, staff proposed reducing the current commercial limit from 10 fish per person to two fish per person and a maximum of 12 fish per vessel during the spawning season. The FWC plans to hold statewide workshops in February with the South Atlantic Fishery Management Council, which oversees fishery management in federal waters from the Keys to North Carolina. The South Atlantic and the Gulf of Mexico fishery management councils are working on similar bag limit reduction proposals for muttons, but they are not as far along with their proposals as the state, South Atlantic and Gulf council representatives said. For more than four years, representatives with the FWC, South Atlantic and Gulf councils have met regularly to discuss new rules for such species as mutton snapper, yellowtail snapper and black grouper.
A recent stock assessment found that the mutton stock is not undergoing overfishing. However, the overall biomass is down and that requires the federal quota to be lowered, FWC fisheries biologist Jessica McCawley said. Much of the concern about the reduction in biomass and the potential for overfishing stems from the large number of anglers targeting muttons when they spawn during full moon nights in May and June on Keys and Florida reefs. Stakeholders have persistently expressed concern about mutton snapper recreational bag and commercial trip limits at FWC workshops, and South Atlantic and Gulf Council public hearings, according to FWC staff. FWC staff heard these comments most recently at statewide workshops this past summer.
The harvest pressure is too intense during the spawning season when the normally solitary fish aggregates and becomes an easy target for both recreational and commercial harvesters, officials say. Stakeholders requesting changes see intense fishing pressure on spawning aggregations as a precursor to over-exploitation. "We have been endorsing this and pushing this for a while," said Key West charter boat Capt. Brice Barr, president of the Key West Charter Boat Association. "It doesn't make sense that you can catch five (of the more plentiful) mangrove snapper, but 10 mutton snappers. It doesn't really add up. Mutton snapper is a fish we feel needs more protection."