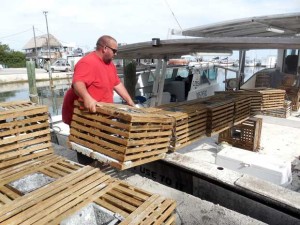 The harvest of spiny lobster off the Florida Keys has never been better, but the price fishermen are being paid is down significantly so far because the Asian market has yet to take off this season.
The season started earlier this month with trap fishermen catching near record number of lobster, fishermen said. A trap will produce about 10 pounds of lobsters on average over the course of an eight-month season, with the bulk being harvested in the first couple of months. So far this year, fishermen have been harvesting as much as five pounds a week, commercial fishermen Gary Nichols and George Niles said.
"It has been good as it's ever been," Niles said. "I don't think we will see the prices we have seen in years past. But one bad hurricane could change all that." However, prices are yet to take off. About 80 percent of spiny lobsters from the Keys are shipped to China and other Asian markets, Niles said. "It doesn't help that this is a bit of a luxury item and China's stock market has dropped by 17 percent," Niles said. "Our guy has shipped a few this week, so it is starting to pick up."
Historically, August is a slow month for shipping whole lobster to China and the rest of Asia. In China, August is considered the "ghost month," when there are no major festivals or celebrations in which the Chinese people would party and consume luxury high-dollar foods such as lobster. Many fishermen have not pulled all of their traps because they are waiting for foreign markets to improve, Nichols said.
In addition, the Chinese economy and stock market has been struggling and it could have an impact on the Keys lobster industry. Some Chinese buyers have gone out of business and one lost $200,000, Nichols said. "There has yet to be a Chinese market," Nichols said. Starting in 2010, Keys fishermen began outfitting their vessels with state-of-the-art live wells to hold live lobster and then shipping them to the China and other parts of Asia, which require the lobsters whole and live.
In 2009, the spiny lobster market crashed with fishermen selling lobsters for as low as $3 a pound. In 2010, the Asian market became hot and the prices increased to more than $10 and now fishermen can receive as much as $19 a pound for live lobster depending on certain times of the year.
Source: Lobster season starts with record harvest, low prices