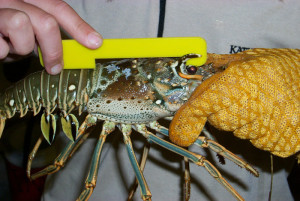 The Florida Sport Spiny Lobster mini-season last Wednesday and Thursday is over. Regular spiny lobster season starts Aug. 6 and runs through March 31.
FWC plans to ramp up its efforts to combat poaching and trap robbing this season. The FWC plans to patrol the nearshore waters in a boat with a hydraulic trap puller and run trap lines looking for traps that do not have trap certificates on them. Some unscrupulous fishermen have been known to place more traps in the water than they are entitled to and lack the proper trap certificates attached to them, Dipre said.
Monroe County Sheriff Rick Ramsay also gave the FWC a series of items to help with nabbing suspected trap robbers — two pairs of ultra-powerful binoculars, two pairs of night-vision goggles and four game cameras, according to the FWC.
State fishery managers geared up for an all-out assault on lionfish during lobster mini-season last week, but the infidel fish proved too elusive, not only in the Florida Keys but other areas off South Florida.
For the first time, Florida Fish and Wildlife Conservation Commission allowed divers an extra lobster if they speared 10 or more lionfish during mini-season. However, it appeared that divers were too busy catching lobster or there weren't enough lionfish in the nearshore waters, FWC officials said.
"It played no significant role down here," FWC Capt. Dave Dipre said. "The nearshore waters don't support that much lionfish. Of the 25 to 30 boats I stopped, only five of them had lionfish."
More Spiny Lobster Articles
Spiny Lobster Season – Florida Keys Rules
It's Florida Lobster Season – Here's How to Cook Them
The Basics to Kayak Lobstering
Of the 90 people who registered for Marathon-based Tilden's Scuba Center's "Spines and Spineys" lionfish derby during mini-season, only five divers speared 10 or more lionfish, FWC Lionfish Outreach Coordinator Meaghan Faletti said.
" target="_blank" rel="noopener noreferrer">
Source: Regular lobster season starts Thursday, runs through March | KeysNews.com
These Keys Treasures Designs and many more are available on products such as T-Shirts, Stickers, Magnets, Mugs, Phone Cases, and much more at KeysTreasures.ReBubble.com