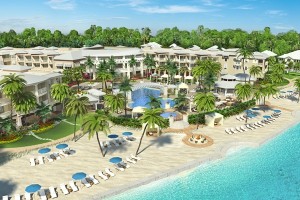 Playa Largo resort, currently under construction at mile marker 97.4, bayside, is seeking Monroe County Planning Commission approval for 24 off-site affordable housing units to serve as employee residences for its staff. It is also proposing to build 28 single-family homes on the same parcel of land as the two 12-unit workforce housing buildings.
The commission is scheduled to meet from 10 a.m. to 5 p.m. Wednesday, Aug. 26, in Marathon.
PL Ocean Residence Holdings LLC is looking to build the 52 units on a 4.6-acre cleared lot at mile marker 97.8, oceanside. Preparation of the new site, as of last week, seemed to already be in the works. The Playa Largo employees of the 24 affordable housing units, according to county documents, would be serviced by a golf cart shuttle that would transport them to-and-from the resort property.
"The success of the resort is contingent on having happy, long-term employees. This cannot happen if they are subject to long commutes or substandard housing," Playa Largo representative Jorge Cepero said. "Providing housing for employees will relieve traffic and prevent straining the current housing stock." Many service industry workers in the Upper Keys live in South Dade and rely on public transportation to and from their jobs.
PL Ocean Residence Holdings' request includes a study that indicates traffic would not be overly affected by construction of or tenancy at the 52 units. The single-family housing units do not require planning commission approval, but do affect the density calculations of the overall project. Staff, according to county documents, is recommending approval of the development.
The county has 249 affordable housing allocations banked for such development within the unincorporated area of the Keys. The allocations are divided into very low, low, median and moderate incomes.
The Playa Largo property was the former home of the 154-unit American Outdoors Campground. Crews, though, began clearing the overrun site for the new resort early last year. They, currently, have a shell of the resort finished. The resort, according to its website playalargoresort.com, will have 144 rooms, 10 bungalows and a private beach house, among other amenities.
It is the first hotel being built in Key Largo in more than 20 years. It, according to its website, is slated for completion in December.
Source: Resort developer seeks housing units | KeysNews.com