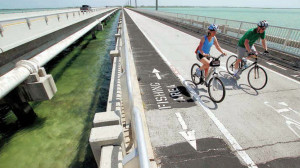 The Florida Department of Environmental Protection is requesting $13.5 million to repair pedestrian bridges on U.S. 1 and continue the work on the Florida Keys Overseas Heritage Trail. The request to the state Legislature could help reopen six fishing bridges that were closed between 2011 and 2014 after state transportation officials deemed them unsafe. DEP has requested $5 million for the removal of the most critically failed cantilever sections, DEP spokeswoman Lori Elliott said. The bridges were once some of the most popular shoreline fishing spots, such as the Ohio-Missouri, Ohio-Bahia Honda and Missouri-Little Duck cuts and the Lower Sugarloaf bridges.
The bridges, which are more than 100 years old, were once a part of Henry Flagler's Florida East Coast Railway Extension and now make up a portion of the Florida Keys Overseas Heritage Trail. They are no longer used for transportation purposes and do not handle vehicle traffic. The bridges' cantilevers, which serve as support girders, have fallen into the water below and pose a hazard to navigation, Elliott said. "The cantilevers at many of the Florida Keys Overseas Heritage Trail bridges have deteriorated and pose life-safety concerns as evidenced by six of these bridges being closed to the public between 2011 and 2014," Elliott said. "In addition to these six closed bridges, others are failing and require immediate repair to protect pedestrians, trail users and boaters from injury due to falling debris and other structural failures."
The funding requested will provide for the design, permitting and construction of the most critical of the failed cantilever roadway sections, which were added to the historic railroad bridges for vehicular traffic in the 1940s, Elliott said. "Several of these cantilevered roadway sections have previously failed and fallen into the water in violation of the National Marine Sanctuary Act," Elliott said. "The deteriorated cantilever sections are currently a major safety hazard to the public." The $5 million will only remove cantilever sections, "which have failed or will fail in the very near future," Elliott said. All total, $15 million is needed to complete the project and reopen all of the closed bridges. The $13.3 million request also includes $5 million for project development, an environmental study for the historic Flagler railroad bridges and $3.5 million for restoration of Bahia Honda Bridge overlook, Elliot said. DEP representatives have given presentations on the request to several Senate committees. Elliott did not say when the legislature will vote on the request.